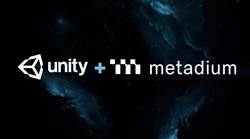 When this infrastructure is integrated with a variety of technologies, it can be applied to a wide range of business sectors, such as health, distribution, and shared economy, creating a digital ecosystem
SEOUL (PRWEB) March 15, 2019
Metadium, a decentralized blockchain identity protocol, aims to hit the mass market as it announces strategic partnership with game industry giant, Unity Technologies.
Through this strategic partnership, Metadium's Meta ID service will be available to game developers worldwide through the Unity Asset Store. By providing a blockchain-powered ID solution for game services, Metadium will not only secure a wider gamer user base, but also open up the possibility for its ID solution to be used by 6.5M Unity game developers around the world. Metadium plans to reach out to the public and other user bases with its ID management application "Keepin" later this year.
Unity Technologies is the creator of a flexible and high-performance end-to-end development platform used to create rich interactive 2D, 3D, VR and AR experiences. Unity also offers solutions and services for creating games and boosting productivity through Unity Asset Store.
Unity Asset Store is a software development kit (SDK) marketplace available for game developers worldwide. It is being used by 6.5 million game developers globally, from Indie developers to industry giants such as Electronic Arts (EA) and Niantic. Among them, 1.3 million clients use the service every month. Games produced with SDKs from Unity Asset Store have exceeded 28 billion downloads, installed in over 3 billion devices worldwide.
Based on this partnership, Metadium's Meta ID SDK allows game developers to use the Unity Asset Store for implementing the Meta ID SDK through Unity's plug-in architecture. This allows for a secure and decentralized ID service.
Metadium is South Korea's first identity blockchain project to create a decentralized identity ecosystem. The project focuses on introducing "self-sovereign identity" to the real world, a concept that individuals are owners of all aspects of their own identity in the offline and online world.
With Coinplug as technology partner, Metadium has raised 38,000 ETH in Q3 of last year through a private sale to a limited number of institutional investors. These investors include FBG Capital, Block Asset, 500 Startups and #Hashed. Metadium will launch its mainnet on March 20, 2019.
Justin Park, CEO of Metadium stated, "When this infrastructure is integrated with a variety of technologies, it can be applied to a wide range of business sectors, such as health, distribution, and shared economy, creating a digital ecosystem."
A source close to the company mentioned that "with Unity Technologies being its first, Metadium will be announcing meaningful partnerships periodically as a part of ​Metadium Partnership Program"​ and that "more information on the program will be shared across Metadium's community channels soon."
Metadium's first step in building a digital economy seems no doubt as blockchain and game industry share similarities including pure digital, borderless, and challenge-like DNA. Also, as gamers in general already are equipped with knowledge of digital currency, strategic partnership with Unity looks far more promising.