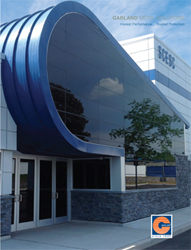 This brochure is a great showpiece to highlight the wide array of high-performance metal options that we offer.
Cleveland, Ohio (PRWEB) March 28, 2016
Garland's line of high-performance metal options provide not only beautiful building finishes, but also total satisfaction that the building envelope will be secure for decades to come. By providing quality solutions from the roof to the walls, Garland metal products let buildings owners focus on running their business instead of worrying about keeping it dry.
To help customers find the perfect metal solutions for their job, Garland recently developed a new Garland Metal Solutions brochure. This new tool gives architects, building owners, facility managers, and other design professionals full access to Garland's comprehensive offering of long-lasting, durable and eco-responsible metal building solutions.
Not only does this brochure cover Garland's full line of metal options like R-Mer® Shield, R-Mer Span, R-Mer Wall Pan, R-Mer Loc, and high-performance edge metal systems, it also highlights the company's vast metal color selection.
"This brochure is a great showpiece to highlight the wide array of high-performance metal options that we offer. The best part is that we have a solution to suit everyone, and our engineering team can provide the service behind each metal system to make sure every individual customer is satisfied," says Tom Diamond, senior product manager with Garland.
The Garland Company, Inc. is one of the worldwide leaders of quality, high-performance roofing and building envelope solutions for the commercial, industrial and institutional markets. For over 120 years, Garland has continually developed unique product and service offerings that have raised the bar of performance while exceeding the individual needs of customers throughout the world. Today, its network of over 200 local building envelope professionals is strategically positioned throughout the United States, Canada and the United Kingdom to provide quality building envelope solutions for single and multi-property facilities. The Garland Company Inc., headquartered in Cleveland, Ohio, is an ISO 9001:2008 certified company.
For more information, visit http://www.garlandco.com or call 800.321.9336.