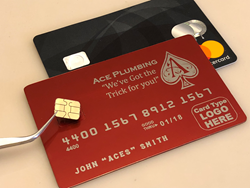 LOS ANGELES (PRWEB) October 25, 2018
For long, general population have been troubled by brittle plastic cards that snap in half after regular use. Keeping this in mind, Metal-CreditCard.com is now offering unlimited card upgrades at a flat fee of $495 only which will allow consumers to convert their plastic debit or credit card into a luxury metal card. The experts have lauded the quality of their metal cards for its durability, exclusivity and magnificent look.
When contacted a representative for the firm was quoted as saying, "If you ask your bank about the metal credit cards they may offer, be prepared to fill out a lengthy credit application, pay exorbitant yearly fees, or be turned down simply because you don't earn the minimum yearly income. We want to make this process easier for the people who simply want to get their hands on a unique and luxury metal card. This metallic card will truly feel different in many ways!"
The company has made it clear that their services cater to EMV enabled chip in credit or debit cards, charge cards, ATM cards, prepaid cards, EBT cards, gift cards, prepaid cards, and any other card that a consumer may have. Their metal card is laser engraved with the basic information from the original plastic card. The magnetic stripe information is transferred to the metal card using the proprietary software.
The experts at the company made it clear that only authorised laboratory management are allowed to perform the transfer to ensure user security. They also made it clear that the software never stores any of the card information. Their beta EMV chip swap procedure which is performed in the laboratory ensures that every new card function 100%. For this reason, all Metal-CreditCard.com customers are required to send in their original bank issued cards via pre-paid security envelopes provided by the company.
A key spokesman for the company was quoted as saying, "Metal-CreditCard.com takes indentity protection very seriously. In order to protect your information, we have placed trained personnel to oversee the verification process. Simply show a copy of your valid, State-issued identification and the original, bank-issued credit or debit card being upgraded."
The company also offers free priority shipping, within the US, of up to 7-10 business days from the date the user ships their plastic card. For an additional fee of $25, which is covered under their priority express returns, the finished product will be returned within 4-6 business days from the date of shipping of the plastic card. The company currently offers two options of standard design templates and customised engraved artworks on the cards.
The CEO of the company, Vincent Torres, a veteran of the US Armed Forces, explained the whole process, stating, "The goal of the design team at Metal-CreditCard.com is to create a unique card design catered directly to your design vision. Ultimately, our design team will gladly create any design for your written specifications and instructions. Clients are also encouraged to submit photos and/or illustrations of the concept they would like to design, to better assist our designers during the card design phase. Our designers can approximate most all submitted artwork, but to those clients with aspirations toward an "exact copy" of an existing bank-card design, they will be disappointed."
About Metal-CreditCard.com
Metal-CreditCard.com is the world's first service to upgrade cheap plastic cards to beautiful metallic cards.
CONTACT INFORMATION
Contact Person: Vincent Torres - CEO
Contact Number: 866-523-2747 ext 700
Email: Info(at)metal-creditcard.com
Website: Metal-CreditCard.com