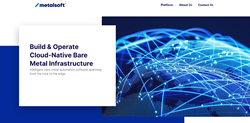 We see a growing opportunity for a bare metal software platform that is designed from the ground up to provide better automation, performance, and cost-savings while delivering modern cloud-like features
CHICAGO (PRWEB) June 23, 2020
MetalSoft today announced the launch of their intelligent bare metal automation software platform. This infrastructure management tool allows enterprises and service providers to better automate and manage their datacenters' bare metal infrastructure while solving challenges of running new kinds of workloads.
The launch arrives as COVID-19 and increasingly distributed infrastructures are growing the need for more remote and automated datacenter management. In addition, the rise of new kinds of workloads such as cloud-native applications, containers, Big Data, NoSQL Databases, and artificial intelligence are driving the need for bare metal infrastructure.
Developed and refined over many years, MetalSoft's platform has proven results for over six years in production for a leading bare metal cloud provider. The on-demand, multi-tenant, self-service software offers integrated and fully automated orchestration of servers, storage, and network. The platform is ideal for cloud service providers and enterprises with infrastructure that spans multiple datacenters.
"We see a growing opportunity for a bare metal software platform that is designed from the ground up to provide better automation, performance, and cost-savings while delivering modern cloud-like features," says MetalSoft CEO and Founder, Lucas Roh. "We are also giving our customers/partners the choice of operating our software on their own, having us operate it on their behalf, or embedding our software as part of their overall as-a-service model."
The MetalSoft platform fully automates bare metal hardware across its entire lifecycle, end-to-end. This allows service providers and enterprises easy deployment, flexibility, and high scalability. The key features include:

Multi-tenant, self-service provisioning, deployment, updating, and cleaning of servers, storage, and networking
Template, workflow, and infrastructure as code automation
Distributed operational analytics increase the platform's intelligence and lights-out automation over time
Integrations with cloud-native initiatives such as Kubernetes and Terraform
"The next generation of computing is going to support applications that are highly distributed and performance-sensitive. They will reside in centralized data centers or in smaller increments out at the edge, and they will need the underlying capacity and reliability of raw bare metal infrastructure," said Philbert Shih, Managing Director, Structure Research. "Managing all this infrastructure is going to take unprecedented levels of automation and that is what MetalSoft is bringing to market. MetalSoft is a platform for provisioning and managing bare metal infrastructure whether a direct end user or service provider."
As more enterprises and service providers run into challenges managing remote datacenters and responding to rising security concerns, bare metal as a service offers a way to reduce their overall management burden. For more information on the MetalSoft platform, visit their website at http://www.metalsoft.io.