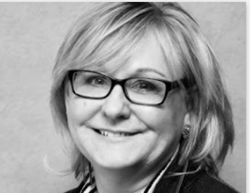 [This technology] could finally revolutionize the Obstructive Sleep Apnea market.
Los Angeles, CA (PRWEB) May 02, 2017
Personalized 3D medical technology startup Metamason Inc. is pleased to announce that Robin Randolph has recently joined the company as Chief Marketing Officer. Within this role, Randolph will be responsible for facilitating growth, sales and marketing strategy.
Randolph is enthusiastic about bringing Metamason's patient-matched, 3D-printed CPAP masks to market. "The world doesn't need another mask, the world needs a mask that fits!" she says. "Metamason is providing a solution for millions of patients that have abandoned or are at risk of abandoning CPAP therapy due to mask fit. The Scan·Fit·Print solution could finally revolutionize the Obstructive Sleep Apnea market."
Randolph brings nearly 30 years of high-level experience in the sleep medicine industry. She previously served as Marketing Manager for North America at Fisher & Paykel Healthcare and Director of Market Initiatives at ResMed, both industry giants.
In addition to marketing and business development, Randolph has extensive experience on the clinical side of sleep medicine. Randolph entered the sleep industry in 1983 when the field was in its infancy; in her early years, she gained direct exposure to clinical practice working in the sleep lab, conducting research and clinical education, and finally entering the Durable Medical Equipment (DME) sector. She also holds a number of medical device patents emphasising patient comfort, patient engagement and report adherence.
At Metamason, Randolph combines her recent experience in marketing, sales and business development with past experience in sleep medicine and DME. She intends to facilitate growth through consumer-centric marketing strategies, implementing consumer engagement tools that drive brand awareness and acceptance.
Metamason CEO Leslie Oliver Karpas sees Randolph's hire as a landmark event for the company.
"She is a titan of the industry," Kapas says. "Robin's wealth of knowledge and experience has already made her a key addition to the Metamason team. We view her appointment as a sign of our commitment to being changemakers in our industry. Metamason's cutting-edge design and manufacturing processes for creating patient-matched products led us to look for an addition to our team who will fit in with our ethos of innovation and consumer-centered service, and it is very fortunate that we were able to find someone of Robin's caliber to fulfill this role. I'm confident that Robin will play a key part in providing and implementing high quality solutions for our clients."
To mark the beginning of a new phase of the company's growth, Metamason has recently launched a redesigned website and updated logo and wordmark.
"It's a more refined vision of our brand identity," says Karpas. "The design reflects the individuality of our uniquely customized products. Our new logo blends architectural geometry and organic curvature, invoking Metamason's synthesis of natural and technological inputs." These design updates coincide with the launch of a new round of bridge financing to propel Metamason's next phase of growth.
About Metamason:
Metamason's healthcare-focused software platform uses 3D technology to create personalized, 3D-printed medical devices. The company's proprietary Scan·Fit·Print™ process integrates 3D body scanning, patented algorithmic design and on-demand 3D printing to create ergonomic products that are individually customized for a perfect fit.
If you would like to know more about Metamason or seek information about employment and/or investment opportunities, please contact:
Charles Bohlen
Director of Operations
811 West 7th Street, Suite 1138
Los Angeles, CA 90017
818-370-0731
charles(at)metamason(dot)com
http://www.metamason.com