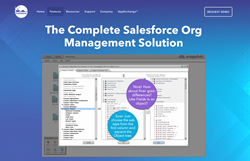 Metazoa Snapshot will make the life of any Salesforce admin, release manager or system integrator much easier by completely automating every step along the Org lifecycle.
SAN FRANCISCO (PRWEB) September 12, 2018
Metazoa, developer of the industry's top choice for change and release automation of enterprise-scale Salesforce deployments, announced the availability of Metazoa Snapshot. Designed for Salesforce admins and release managers, Metazoa Snapshot provides powerful visual tools to simplify and automate every step of Salesforce Org deployment, migration and lifecycle management.
This new release of Snapshot replaces what was formerly known as Dreamfactory Snapshot and has been redesigned from the ground up. Metazoa Snapshot is dramatically faster than Dreamfactory Snapshot and adds dozens of comprehensive reports that document every aspect of an enterprise-scale Salesforce account, including unused assets, complex relationships, disaster recovery, data security, user access privileges and corporate compliance.
"With Salesforce permeating across every function and department of an enterprise, admins and release managers face the task of updating, documenting and securing increasingly complex Org structures and designs," said Metazoa CEO Jennifer Mercer. "We completely rewrote Snapshot to boost performance and then added dozens of enhancements requested by admins who manage huge Salesforce datasets. Metazoa Snapshot will make the life of any Salesforce admin, release manager or system integrator much easier by completely automating every step along the Org lifecycle."
Metazoa Snapshot gives Salesforce admins and integrators superpowers that boost their productivity and enable them to ensure tight access security and compliance with the stringent requirements that are often mandated in the financial services and healthcare sectors. It provides a true 'single pane of glass' that enables admins to schedule automated metadata backups, analyze configuration changes over time or between Orgs, deploy Org metadata, log and audit org changes over time, document Org configuration for compliance, identify unused metadata, define workflows for deployments and reports, and much more.
Metazoa Snapshot is a big hit with integrators and ISVs
Imran Khan, head of client release at XCD, which offers a cloud-based HR system powered by Salesforce, said: "Snapshot has been a dream come true for us, it has given us immense control over our client releases and significantly reduced our deployment time. With this release, Metazoa has added more features and made it easier to use."
Leyna Hoffer, CRM success manager at Edmentum, a Salesforce MVP, said: "We have a complex and ever-changing instance of Salesforce and we are always striving to keep it as clean and well-documented as possible. Metazoa Snapshot is saving us numerous hours previously spent on manual documentation. Between the time it saves us and the awesome service we have received from the support team, this is now a must-have app in my toolkit."
Metazoa Snapshot feature summary
Snapshot was always designed with productivity in mind and makes dozens of manual tasks faster, easier or less laborious. Metazoa Snapshot delivers major enhancements in both performance and functionality.

Continuous Integration: Connect and synchronize any Salesforce Org, content repository, or project folder. Integrations are triggered by metadata differences or recent deployments. Learn more about this in our CI white paper.
Salesforce DX: We've aligned Snapshot with the Salesforce modern developer experience, making it easy to populate projects, connect Dev Hubs, create Scratch Orgs, push and pull source, and edit asset files. Creation and installation of Second-Generation Packages is now supported.
Metadata Deployments: Manage large migrations with difference reports, Apex tests, XML transformations, missing reference removal, and automatic roll-back.
Visual Desktops: We've expanded what can be done from within the visual metaphor: Drag and drop deployment pipelines, Right-click to schedule backups, deploy metadata, export reports, and even share custom desktops.
Security and Compliance: Over 40 reports such as record-level access, user activity timeline, data dictionary, code coverage, and forgotten assets have been added. Learn more about this in our Security and Compliance white paper.
Workflow Automation: Any report, backup, or deployment can be scheduled as a one-time or recurring event. Trigger alerts based on the outcome.
Where to learn more about Metazoa Snapshot
Visit the Snapshot product page and watch the product overview video.
See Metazoa and Snapshot at Dreamforce 2018
Visit Metazoa: booths #242 and #1637 in the Customer Success Expo, Moscone South.
Get a hands-on in the Demo Jam: Friday, September 28, 10:30 in the Trailhead Live Stage in the Trailhead Lodge (Moscone West, 1st floor).
Watch Metazoa founder Bill Appleton's presentation, titled "The Last Mile: Managing Complex Deployments from Sandbox to Production": Thursday, September 27, 12:45PM - 1:05PM, Partner Theater 2, Moscone South
About Metazoa
Located in Silicon Valley, California, Metazoa was founded in 2018 by key members of DreamFactory Software, the original developer of Snapshot. Metazoa is dedicated to building, marketing, supporting, and selling Metazoa Snapshot, the world's finest change- and release-management application for Salesforce administrators. Metazoa Snapshot is the ultimate tool for Salesforce Org cleanup, reporting, auditing, comparison, and lifecycle management. Features include metadata migration from sandbox to production, reporting on compliance and security, and Salesforce DX compatibility. For more information, visit http://www.metazoa.com.