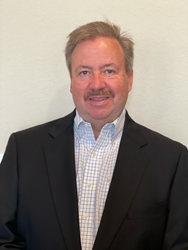 KECHI, Kan. (PRWEB) March 17, 2021
Brad Young, President of Meter Engineers, has announced the hiring of Gary Astle as Sales Director.
"Gary is a well-known face in the petroleum industry, with 3 decades worth of experience under his belt. In his new role, Gary will be responsible for managing and developing new growth opportunities and strategies," Young said. "We are thrilled to have him as a member of our team, and we look forward to the value he will continue to bring to our industry."
"I'm tremendously excited to join Meter Engineers with their portfolio of world class products and services to help expand phenomenal business globally," Astle said.
Prior to joining Meter Engineers, Gary held a succession of sales, service, operations & marketing roles culminating in executive leadership positions with ABB, Servomex, Air Liquide, Faure Herman and Process Insights Inc. His titles have included Sales Representative, Product Manager, Service Manager, Regional Manager, International Sales Manager, VP of Sales/Marketing, General Manager & President for multiple multi-national corporations. Gary has two Bachelor of Science degrees in Chemistry and Business Management.
About Meter Engineers:
Meter Engineers headquartered in Kechi, Kansas, has over 40 years of experience developing products and services used in the petroleum measurement and automated quality control monitoring industry. Now a leader in the field of meter provers, the company's innovative thinking and expertise has pioneered solutions for the industry including patented Meter Engineers-SDS prover detector switches, UniCast Spheres and the new MagnaProve®. Also recognized for exceptional factory and field support, Meter Engineers provides water draw calibrations, meter proving, prover inspections, piston prover resealing and maintenance programs on the automated quality control monitoring equipment. Meter Engineers delivers assurance and accuracy for every application. Their unidirectional prover design has been a staple on many large pipeline projects, along with the ability to custom design and engineer any configuration of bidirectional prover. Meter Engineers is a forward-thinking company with several new products currently in development. To learn more, please visit https://meterengineers.com/.