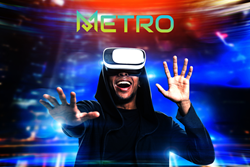 PHILADELPHIA (PRWEB) September 17, 2020
Metro Esports and Derek Automotive Technologies today announced the launch of the largest collegiate esports tournaments series in the country, with event registration scheduled to begin October 1st. The HBCU Esports National Championship series will consist of three online qualifying tournaments and a Live-Streamed / Live-event Metro Fest national championship weekend, on the NCCU campus in spring 2021.
Both Metro Esports & Derek Automotive are Philadelphia-based and minority-owned technology companies partnering with other top brands & sponsors to introduce urban communities, schools, and students to the-billion-dollar esports industry. According to Quartz.com, a study found that youth of color between 8 and 18 play games roughly thirty minutes more per day than white youth of the same age. Latinx youth have been found to spend more time than Black or white youth playing console games, and the same study found that black children start playing at an earlier age, and they're twice as likely to have a video-game console in their bedroom.
While many high profile esports competitions require expensive computers and organized team membership to fairly compete, this series caters to individual players and friends, playing on console units like XBox and PS4, allowing for a greater number of participants, particularly those coming from lower income communities. Featured games for the tournament this year for individuals will be Madden '21, and for friends and partners, the widely popular Call of Duty.
The three qualifying events will be held online and will run from January to March of 2021 with two age divisions: Current High School / Current HBCU Student. Only twenty competitors from each division will receive an invitation to The Metro Fest championship weekend, scheduled for April 17th, 2021* on the North Carolina Central University campus, hosted by the iconic actor, journalist, and Sirius XM Morning Show Host, DJ Sway Calloway. *Alternative dates will be provided should Covid-19 restrictions on public gatherings remain in place.
Competitors will have chances to win incredible prizes that include cash scholarship awards, eBikes, scooters, and an Electric SUV valued at more than $40,000. The Avani SUV produced by Derek Automotive is a stylish midsize SUV that's perfect for the college student carrying tech gear, or fuel-conscious family of road warriors. The 'Proteus' version of the vehicle, which can travel 300 miles on a gallon of fuel, is near completion and may also be among the grand-prize awards offered. "We're excited to showcase our company and technology along-side other minority-owned tech companies like Metro Esports and in partnership with North Carolina Central University, '' said Derek Bailey, Derek Automotive's founder and chief executive.
"For Metro Esports, This HBCU National Championship Series is not just about esports and gaming, it's also about honoring our role models, and celebrating Black excellence in education, technology and entertainment. We want to attract, engage and excite a broad and diverse crowd of new industry enthusiasts, while creating value-added opportunities for both academic and professional career advancement. To this end we carefully selected North Carolina Central University as partners and hosts for this pioneering effort," said Shaon Berry – Metro Esports CEO & Founder.
NCCU is ranked in the Top Ten among Historically Black Colleges & Universities by U.S. News & World Report. The mission of the Men's Achievement Center and African American Male Initiative (AAMI) is to provide its members with relevant professional and social experiences that stimulate personal ambitions. "This event provides our students with an opportunity to immerse themselves in technology and entertainment, setting the standard for HBCU esports events moving forward. NCCU is also proud to partner with a minority owned esports organization, bringing an increased level of exposure to our university and community. Metro Esports has consistently shown their dedication to expanding the culture of esports, education, and most importantly our students" said Men's Achievement Center & AAMI Director - Roderick Heath.
You can find out all the details on the first event here:
HBCU Esports National Championship - http://hbcuesports.net/
Metro Esports – https://metrotech.gg/home
Derek Automotive Technologies - https://derekautomotive.com/
North Carolina Central University - https://www.nccu.edu/
For information on sponsorship opportunities please contact: Shaon Berry: sberry@metrosport.us