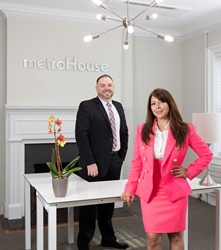 I look forward to building a strong team of agents, improving upon my marketing strategies, and dominating the local market with the help of Side
ALEXANDRIA, Va. (PRWEB) December 16, 2022
Metro House today announced its partnership with Side, the only real estate technology company that exclusively partners with high-performing agents, teams, and independent brokerages to transform them into market-leading boutique brands and businesses. The alliance will ensure that Metro House's creative, consistent, and comprehensive services are powered by the industry's most advanced platform.
In 2009, Lizzie Helmig decided to jump into real estate for its lucrative investment potential. Since then, she's earned over $100 million in sales, consistently ranking as the top agent at her office and one of the top three regional agents. The accomplished consultant has also won the title of Top Producing Agent at Washingtonian magazine and Top Agent at Northern Virginia Magazine each year since 2018. Lizzie is a determined Harvard-certified negotiator with an innovative marketing mindset and strong local industry knowledge. She values her client relationships above all else and puts in the hard work and dedication to follow through on their goals.
Metro House will assist buyers, sellers, relocators, investors, and military personnel in Northern Virginia to reach their real estate objectives with ease. Metro House's strong network of local contractors and lenders means its clients can enjoy a simple and streamlined process from start to finish.
Partnering with Side will ensure Metro House remains on the cutting edge of the evolving real estate market while continuing to deliver premium services to its clients. Side works behind the scenes, supporting Metro House with a one-of-a-kind brokerage platform that includes proprietary technology, transaction management, branding and marketing services, public relations, legal support, lead generation, vendor management, infrastructure solutions, and more. Additionally, Metro House will join an exclusive group of Side partners, tapping into an expansive network from coast to coast.
"I look forward to building a strong team of agents, improving upon my marketing strategies, and dominating the local market with the help of Side," Helmig said. "With Side's state-of-the-art services, I can make a major impact on the industry without sacrificing time for my clients."
About Metro House
Anyone needing real estate services in Northern Virginia, including but not limited to first-time homebuyers, military members, investors, and sellers, will benefit from Metro House's personalized, all-in-one assistance. The team at Metro House expertly balances compassion with competitive negotiation tactics that result in efficient and prosperous deals. With profound local market knowledge, strong industry connections, and unparalleled commitment, Metro House delivers a successful experience to its clients that will unlock their bright futures. For more information, visit https://www.metrohouserealestate.com.