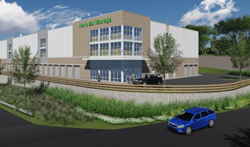 LAKE FOREST, Ill. (PRWEB) June 03, 2021
Metro Storage LLC is pleased to announce the opening of a state-of-the-art storage facility in Randolph, New Jersey. The newly constructed self-storage facility marks the company's 7th location in the Garden State. The modern 838-unit store is ideally situated on 353 Route 10 in a vibrant retail corridor offering tremendous exposure and access via the city's main thoroughfare.
"This is an exceptional store in a growing market," said Marty Gallagher, President of Metro Storage LLC. "The new Randolph store is a great addition to our New Jersey portfolio and provides the surrounding community with a wide selection of climate-controlled business and residential units with interior loading and unloading bays designed for comfort and convenience."
A unique feature of the three-story facility is the first and second level access to the large interior drive-in loading/unloading bays, made possible by the wrap around drive aisle. Other best-in-class features include 100% climate-controlled storage, multiple access points around the building, a modern retail storage office, and storage-to-office communication speakers located throughout the facility. Additionally, some units include 24-hour access.
Highlighting the latest in self-storage amenities, the Randolph storage office features a contemporary moving supplies display and seating area with a fireplace, TV, and coffee bar and is staffed by a friendly, professionally trained storage team. Metro Self Storage offers contact-free storage rentals, a free 7-day storage hold, online reservations and rentals, online bill-pay options, and extended customer access hours.
About Metro Storage LLC
Metro Storage LLC is a privately owned, fully integrated, international self-storage company specializing in the development, construction, acquisition, and management of self-storage facilities in the USA and Central America. Metro operates under the trademark "Metro Self Storage" in the US and is one of the top 10 largest owners/operators of self-storage facilities in the United States, with over 140 stores covering 14 states. Metro Storage International (MSI) has an affiliate/partner in Central America, which operates under the trade name "Mr. B Self Storage" and is Central America's leading self-storage operator with locations throughout Guatemala, El Salvador, and Costa Rica. More information about the firm is available at http://www.metrostoragecorporate.com.
About Fremont Realty Capital
Fremont Realty Capital ("FRC") is the real estate private equity business unit of the Fremont Group, the investment office of the Bechtel family of San Francisco. Since its formation in 1997, FRC has provided its investors with superior risk-adjusted returns and value-creation through investments in non-traditional and traditional real estate sectors, both domestically and abroad. FRC has been investing in US and European self-storage businesses since 1998. Its success is based on a disciplined investment strategy, enduring long-term relationships with best-in-class operating partners, and the collective experience of the firm's principals. FRC has made investments in 365 properties in 11 countries, totaling over $5 billion.