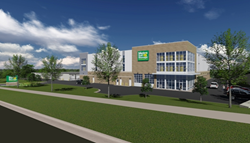 "The mix of interior climate controlled and traditional drive up access units will provide options to meet all of the storage needs of the surrounding community."
LAKE FOREST, Ill. (PRWEB) October 30, 2018
Metro Storage LLC announced the purchase of a parcel of land in South Brunswick, New Jersey with plans to construct a new state-of-the art storage facility offering 668 units across 75,000 rentable square feet (RSF). Located at 3963 U.S. Route 1 in South Brunswick, the facility will feature a multi-story, 100% climate controlled, self-storage building totaling 60,000 RSF and three single-story, drive-up, non-climate controlled self storage buildings with an additional 15,000 RSF.
"The exceptional location of this property sets Metro up for success," said Marty Gallagher, President of Metro Storage LLC. "We are excited to get started on construction of this facility and adding to the thriving business community along the Route 1 corridor. This site, with over 500 feet of frontage, provides us the strong retail visibility that we strive for in our developments. The mix of interior climate controlled and traditional drive up access units will provide options to meet all of the storage needs of the surrounding community."
The new store will be located on a major north/south highway with excellent exposure, in a dense and affluent suburban market southwest of New York City, close to residential areas and major retailers. The store will feature a mix of interior climate-controlled and traditional drive-up access storage, large interior drive-in loading/unloading bays with several access points around the building, elevator access, state of the art security, and a large, modern retail office.
Construction is scheduled to commence in the coming months with expected completion in the third quarter of 2019. This will be Metro's tenth store in New Jersey.
About Metro Storage LLC
Metro Storage LLC is a privately owned, fully integrated, international self-storage company specializing in the development, construction, acquisition, and management of self-storage facilities in the USA, Brazil, and Central America. Metro operates under the trademark "Metro Self Storage" in the US, being one of the top 10 largest owner/operators of self-storage facilities in the United States with over 135 stores covering 14 states. Metro Storage International (MSI) has an affiliate/partner in Brazil which operates under the trade name "MetroFit". MSI's affiliate/partner in Central America operates under the trade name "Mr. Bodeguitas", and is Central America's leading self-storage operator with locations throughout Guatemala, El Salvador, and Costa Rica. More information about the firm is available at http://www.metrostoragecorporate.com.
About Fremont Realty Capital
Fremont Realty Capital ("FRC") is the real estate private equity business unit of the Fremont Group, the investment office of the Bechtel family of San Francisco. Since formation in 1997, FRC has provided its investors with superior risk-adjusted returns and value-creation through investments in non-traditional and traditional real estate sectors, both domestically and abroad. FRC has been has been investing in U.S. and European self-storage businesses since 1998. Its success is based on a disciplined investment strategy, enduring long term relationships with best-in-class operating partners, and the collective experience of the firm's principals. FRC has made investments in 365 properties in 11 countries, totaling over $5 billion.