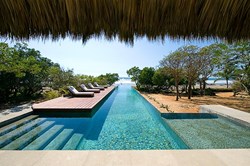 I've had friends stay here who didn't put clothes on for a week.
Berlin, Germany (PRWEB) November 27, 2013
Cangrejo y Toro, a private sanctuary for the senses on Mexico's Pacific coast, is now available for rent through Welcome Beyond, a website promoting only truly memorable vacation rentals worldwide.
Cangrejo y Toro's style combines contemporary design with traditional Mexican architecture and materials: "The place has been built with all natural materials. All the hardwood is from the surrounding jungle forests. They've been doing this kind of building here for 100 years, and though the buildings seem primitive, they're wired for sound and WiFi to bring them into the 21st century," owner Richard states.
The three bedroom suites are surrounded by 7 acres of oceanfront land with mango and papaya trees. Every suite is located in a separate building with its own porch to ensure perfect privacy. The private decks have breathtaking sunset and ocean views. In the comfortable communal area there are a hot tub and a 70 feet lap pool with natural sea water extending right out the beach. With no disturbing TV or telephone guests enjoy relaxing naps in the hammocks.
"The sun is up, the sky is clear, and the winds are constantly blowing from the ocean," Richard describes the pleasant local climate. He recommends to visit Cangrejo y Toro all year round, except during the rainy season which runs from late September to early October.
Cangrejo y Toro offers an in-house spa service, the staff can arrange surfing and yoga lessons, horse-back riding and charter fishing trips with local fishermen. The chef offers an optional gourmet Mexican food service preparing 3 meals a day so guests don't ever have to leave the house. A beautiful lagoon is a 15-minute walk down the beach and the perfect starting point for a kayak or paddle tour – guests may even spot a crocodile, or thousands of amazing birds.