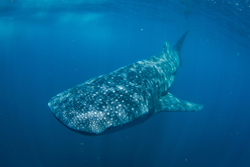 QUINTANA ROO, Mexico (PRWEB) August 21, 2019
Ahead of Whale Shark Day on August 30, tour providers of the Mexican Caribbean have welcomed new government-mandated regulations to protect the largest fish in the world. Introduced by Mexico's National Commission of Natural Protected Areas (CONANP), the innovative new policies aim to safeguard these famous endangered creatures while preserving the magical appeal that attracts an increasing number of visitors to swim with the whale sharks each season from May to September.
"As scores of animal lovers discover this unique experience each year, the rising popularity of swimming with whale sharks effects a rising need to protect this special species," said Dario Flota Ocampo, director of Quintana Roo Tourism Board. "These new restrictions showcase our efforts to promote sustainable tourism practices to conserve the species for future generations."
Whale sharks are observed throughout the northern Quintana Roo coast in Holbox, Cancun and Isla Mujeres, where the gentle giants – which can reach up to 40 feet and weigh as much as 15 tons – migrate to feed on plankton and small fish each year. The Mexican Caribbean has the largest gathering of whale sharks in the world. Visitors can sustainably see the sharks on tours managed by trained experts including Eco Colors, which led area ecotourism with its first whale shark swims nearly 20 years ago and has partnered with leading organizations including World Wildlife Fund (WWF) and The Nature Conservancy. Eco Colors tours are led by marine biologists or naturalists, so swimmers receive expert guidance on their tour. In Isla Mujeres, which boasts the densest concentration of whale sharks, Ceviche Tours averages five to 50 whale sharks on each excursion. Ceviche Tours guides photograph the whale sharks to contribute to worldwide sighting, tracking and photo identification efforts. Of course, the company also serves guests a fresh lunch of its namesake dish at the end of each tour.
Strict safety and sustainability guidelines include buddy-system swimming (maximum two people in the water at one time), no touching of whale sharks, a minimum six-feet distance policy, and no flash photography. No more than 10 people are allowed per boat.
Two hundred and fifty new compliant vessels have been introduced featuring propeller protectors sourced both locally and from the U.S. and Canada, which will prevent injury and accidents. The policies also limit the total number of divers to 80,000 visitors over the season. Visitors will be restricted to two dives per person rather than the average six. Under the region's notable ecotourism standards, this year the Whale Shark Reserve is for the first time managed under the Mexican Caribbean's Natural Protected Areas (ANP), insuring more than ever that dives will be done responsibly and sustainably.
About Quintana Roo
Part of the stunning Mexican Caribbean, the state of Quintana Roo is one of Mexico's top tourism producers including destinations both world-renowned and off-the-beaten-path. From Cancun, Riviera Maya and Playa del Carmen to Cozumel, Isla Mujeres, Holbox, Tulum and Maya Ka'an, Quintana Roo is known for its idyllic landscape, diverse activities, unique cuisine and the incomparable beauty of its Mayan ruins. The destinations that makeup Quintana Roo have options for all kinds of travelers, from ultimate luxury in five-star resorts to close encounters with nature including swimming with whale sharks and cenote diving and international music, sporting, and gastronomic events.