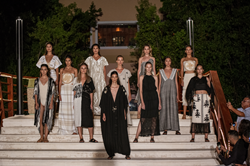 CANCUN, Mexico (PRWEB) November 08, 2021
After a year full of awards, Sunset World Group's Hacienda Tres Ríos hotel shined again by welcoming México Fashion Show, the most fashionable event in the Riviera Maya. Activities took place over three days and renowned designers came together to show summer 2022 fashion trends in the beautiful resort and its natural surroundings.
On November 5 at sunset a welcome cocktail party took place on a beautiful terrace overlooking the sea. Selected invitees were able to meet the 6 designers to learn more about their inspiration and creations. The next day, November 6, the action unfolded on a casual runway in the mangrove forests, showcasing the designs' color and sensuality.
Later, a cocktail party opened the stellar runway show and the designers' creations shone… clothing made from Mexican textiles by Denisse Kuri, Mexican artisan jewelry by Elisheva & Constans, creations inspired by Juchitán, Oaxaca from Griselda Chiñas, limited-edition beachwear from Liech Antel Swimwear, innovative cotton techniques by Karla Martínez and sustainable handmade designs by Juan Pablo Socarras.
This night of glamour and sophistication closed with a lively party during which attendees enjoyed canapés and refreshing cocktails. On Sunday the 7th in the afternoon there will be an attractive pop-up store where clothes and accessories made by both invited and local designers will be for sale. There will also be a conference about personal image by Giselle Orozco. It should be noted that all México Fashion Show activities were held at limited capacity and following sanitary recommendations.
"Most of the creations we saw today are made with organic, sustainable materials with social responsibility in mind, a trend that is becoming more and more essential," commented Annie Arroyo, Sunset World Group Brand and Communication Corporate Director. "There is no better setting than Hacienda Tres Ríos and its protected natural environment to create environmental awareness through fashion," she concluded.
Hacienda Tres Ríos is the only environmentally responsible luxury resort that offers exclusive access to the Tres Ríos Nature Park in the Riviera Maya and a truly comprehensive All Inclusive Plan. Enjoy architecturally acclaimed accommodations, fine dining, world-class spa services, and dazzling experiences at the exclusive Tres Ríos Nature Park with guided tours through mangrove forests, swimming, snorkeling, and kayaking along winding natural rivers or simply unwind on its peaceful beaches.
Sunset World Group is a family-owned Mexican company and a leader in the hospitality industry, offering authentic and unforgettable vacation experiences in Cancun and the Riviera Maya. It was founded more than 30 years ago and has grown to offer six resorts, world-class travel services, amenities and a diverse network of operational and marketing solutions that focus on providing the best vacation experiences for its Members and guests. From cultural excursions to water sports, the Members of Sunset World are never far from their next great adventure.