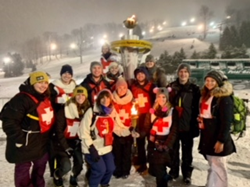 This recognition of Linda's tireless dedication, 30 years, to the health and safety of all the SOPA athletes is long overdue and so well-earned.-Paula Turocy, Hall of Famer, both PATS and NATA
HARRISBURG, Pa. (PRWEB) March 01, 2019
The Pennsylvania Athletic Trainers' Society (PATS) members and students volunteered at the annual Special Olympics Winter Games. The 2019 games were hosted by Seven Springs Resort in Seven Springs, Pennsylvania. Athletes competed in alpine skiing, cross-country skiing and snowshoeing. In addition, a few athletes participated in a snowboarding demonstration this year.
This year was extra special, as PATS Hall of Famer Linda Meyer was honored for over 30 years of service to Special Olympics. Meyer has been instrumental in ensuring the athletes' safety by providing access to the best medical care at not only seasonal games but also at camps throughout the year. Hall of Fame members Paula Turocy and Teresa Zepka were there to celebrate this crowning achievement! Paula Turocy stated, "This recognition of Linda's tireless dedication, 30 years, to the health and safety of all the SOPA athletes is long overdue and so well-earned. I couldn't be more thrilled that she was recognized in such an appropriately public way. Thanks to Sarah (Manspeaker) and Ellen [(Wilson)Loaskie] for helping to make it happen."
Also in attendance were students from Duquesne University and California University of Pennsylvania. Here is what the students had to say about their experiences:
"Our Duquesne University senior Athletic Training class volunteered to be a part of the medical staff in the 2019 Special Olympics Winter Games. We had an amazing experience and felt honored to spend time with such great athletes. We treated conditions including an MCL sprain, contusions and falls in the middle of the ski slopes. However, we really got into the true spirit of the games by cheering on all the athletes and truly admiring all the hard work they put into getting there. This experience is something we will remember forever, and we will take the skills we learned into our future endeavors."
"Our (CALU) experience working the Special Olympics at Seven Springs is one of the most rewarding times of our college career. Watching this athletic population compete and win awards is very eye-opening. Communicating and spending time with them makes you cherish every single moment! It's amazing that these athletes remember us year after year. It is a great feeling to cheer them on and be there whenever they fall or get an injury. Battling the brutal weather is tough, but seeing an athlete complete the course for their very first time, or an athlete who finally won first place is an exceptional feeling. We are very thankful for this opportunity and can't wait to return next year!"
For more information on how to become a volunteer for the Special Olympics please visit https://specialolympicspa.org/become-a-volunteer.
For more information regarding this topic or to schedule an interview with PATS President George Roberts Med, LAT, ATC, please contact Linda Mazzoli MS, LAT, ATC, PATS Executive Director at patsexecutivedirector(at)gopats(dot)org
The Pennsylvania Athletic Trainers' Society, Inc. is a progressive organization of licensed health care professionals who work under the direction of a licensed physician. Our society continues to increase public awareness and education regarding Athletic Trainers and the Athletic Training profession while serving as the premier source of information for public safety, injury and illness prevention, early intervention, patient care, and healthcare delivery for the physically active in the Commonwealth.
"The Keystone to a Health and Physically Active Life"