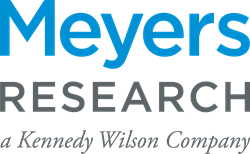 We are proud of the continued growth of Zonda in the central region and our expanding team. With our new additions, Meyers Research will continue to provide sales and advisory support to our rapidly increasing client base. - Jeff Meyers, President, Meyers Research
COSTA MESA, Calif. (PRWEB) October 09, 2018
Meyers Research, the housing industry's leading provider of new home construction data, announced two new hires: Ray Bledsoe as Regional Sales Director and Michael Bailey as Research Associate.
"We are proud of the continued growth of Zonda in the central region and our expanding team," said Jeff Meyers, President at Meyers Research. "With our new additions, Meyers Research will continue to provide sales and advisory support to our rapidly increasing client base."
Ray Bledsoe joins Meyers Research with over 13 years of experience driving strategic and consultative sales of data and services in the SaaS environment within the Real Estate sector. He has a bachelor's degree in marketing and will be focusing on the Minneapolis, Detroit, Chicago and Houston housing markets. Michael Bailey has a bachelor's degree in business and is in the final year of an MBA program. With a specific interest in research and analysis, he will assist the Dallas office on projects around the nation.
About Meyers Research
Meyers Research, a Kennedy Wilson Company, is the housing industry's leading provider of rich data for residential real estate development and new home construction and a leading Advisor to the real estate development industry. Headquartered in Costa Mesa, CA, the company has developed an innovative Zonda iPad application geared for homebuilders, multifamily developers, lenders and financial institutions to analyze the latest housing market trends and inform the strategic thinking behind its premier consulting practice.