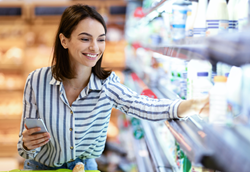 "For 8 years now," says MFour CEO's Chris St. Hilaire, "we've set the mobile consumer panel standard. Surveys On The Go® is the nation's largest, highest-rated survey app. Now, clients can see opted-in consumer paths-to-purchase — data they just can't get anywhere else."
IRVINE, Calif. (PRWEB) May 12, 2021
Today, MFour Mobile Research announced Atlas Views™, part of Atlas Studio™: the world's first consumer journey platform. Built on 100,000 demographically balanced consumers, Atlas Views™ touches all three channels, for app, web, and in-store insights.
Subscribers can also trend consumer sentiment — like satisfaction and trip types. This gives them the ability to dig in deep and uncover unique behaviors, then survey for the details.
"For 8 years now," says MFour CEO's Chris St. Hilaire, "we've set the mobile consumer panel standard. Surveys On The Go® is the nation's largest, highest-rated survey app. Now, clients can see opted-in consumer paths-to-purchase — data they just can't get anywhere else."
With millions of daily journeys, Atlas Views™ offers an unparalleled look at app, web and in-store shopping trends. Subscribers can use the data for product placement and advertising. Then, survey when trends emerge for a complete picture of consumer behavior.
Says St. Hilaire, "Consumers are dynamic and especially post-COVID, it's critical to get visibility into the omnishopper journey. With cookies and IDFA's going away, you need an opted-in first-party panel that has been paid fairly to share their data and insights."
Interested parties can visit mfour.com/Atlas to sign up for a free 7-day trial account.
About MFour:
MFour introduced the mobile app, Surveys On The Go® (SOTG) in 2011— building the nation's largest, highest-rated consumer behavior and survey panel. SOTG now tracks more than 10 million daily App + Web and Brick + Mortar journeys.
MFour is the only insights firm to combine data with surveys, giving clients an omnichannel view of the "where, when and why" behind shopping behavior. To learn more, visit: https://mfour.com/atlas.