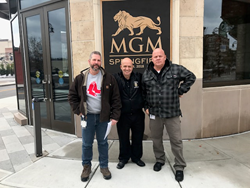 "In this case MGM has Decided to Fight and has Refused to RESPECT its Casino Security Officers RIGHTS to Unionize," stated LEOSU Organizing Director."
SPRINGFIELD, Mass. (PRWEB) November 21, 2018
Presently many of the MGM Springfield casino employees have already sought unionization and are presently represented by other national and local unions based on a neutrality agreement.
When an employer signs a neutrality agreement it agrees to allow its employees to unionize without any interference from the company. Meaning it stays neutral and allows it's employees to decide for themselves on whether or not to unionize.
Once the majority of employees signup to unionize the union then requests the employer to voluntarily recognize its employees right to join a union by requesting a card check which is verified by an independent party, thus bypassing an NLRB election.
While MGM Springfield has allowed most of its employees to unionize under a neutrality agreement the same cannot be said for casino security officers. "In this case MGM has decided to fight and has refused to RESPECT its casino security officers rights to unionize," stated LEOSU Organizing Director Steve Maritas.
Under MGM Springfield's present AT-WILL EMPLOYMENT POLICY. Unless your position is covered by a collective bargaining agreement providing otherwise, the relationship between you and the Company is referred to as "Employment AT-WILL" This means your employment can be terminated at any time for any reason, with or without cause, with or without notice, by the Company.
"Based on the above MGM Springfield AT-WILL EMPLOYMENT POLICY MGM Casino security professionals have no job security" noted Maritas.
Upon winning this MGM Springfield / LEOSU Union election on Tuesday November 27th the Union plans to begin negotiations as early as January of 2019 to bargain over wages, benefits and other conditions of employment, which also includes the elimination of the "Employment AT-WILL" policy MGM Springfield presently has in place. LEOSU General Counsel Grant Lally, from the law firm of Lally & Misir, LLP will be leading negotiations along with Maritas and the MGM Springfield bargaining committee.
The LEOSU will also be looking into whether or not MGM Springfield is subject to the Massachusetts Blue Laws.
The Massachusetts Blue Laws control hours of operation for certain businesses and require some businesses to pay extra compensation (known as "premium pay") on Sundays and some legal holidays. These laws are enforced by the Attorney General's Office. The Department of Labor Standards has authority over the statewide approval of local permits allowing businesses to open on Columbus Day, Veteran's Day, Thanksgiving and Christmas when they otherwise could not open for some or all hours on those days.
https://www.mass.gov/guides/working-on-sundays-and-holidays-blue-laws
The Law Enforcement Officers Security Unions (LEOSU) is a full service labor organization formed to provide every labor related service from negotiations, grievance processing, legal and legislative representation.
The Law Enforcement Officers Security Unions (LEOSU) mission is to serve as a voice for law enforcement officers and security professionals in the New York, New Jersey, Connecticut, Pennsylvania, Washington DC Region and the Northeast region to their employers. Thousands of law enforcement officers and security professionals provide a fundamental protective service to federal agencies as contractors. These bargaining unit employees need to have their workplace concerns and interests represented to their employer with passion, integrity, and fairness. LEOSU delivers a comprehensive employee and labor relations program that will provide high quality service to officers by representing their interests and negotiating with the employer for results that create a better workplace. Our union is characterized by three core values: personalized service, transparency, and results.
The number one issue that LEOSU representatives address when speaking with groups interested in switching union affiliation is the quality of our negotiators, business agents and the service they provide to their local units. Calls are returned promptly. Many questions are answered on the spot, more difficult inquiries are responded to immediately after the issue is investigated.
Our partnership agreements with other 9(b)(3) Security Guard, Security Police, Law Enforcement Unions & Security Training facilities benefit from the expertise and assistance of these International Unions, National Unions, its divisions and affiliate partners within the Union's structure makes us one of the strongest 9(b)(3) security unions in Northeast and the United States.
CONTACT: Steve Maritas LEOSU Organizing Director 800-516-0094
ADDRESS: 1155 F Street NW #105 Washington, DC 2004
For more information: http://www.LEOSU.ORG
SOURCE Law Enforcement Officers Security Unions LEOSU, LEOS-PBA
Related Links
https://www.leosudc.org
https://www.linkedin.com/in/leosudc/
http://www.leosuyoutube.org
https://www.facebook.com/LEOSUNION/
Union Busting Information Links
https://www.unionbustingtactics.org/
MGM Casino Links
https://www.mgmspringfield.com
https://www.mgmresorts.com