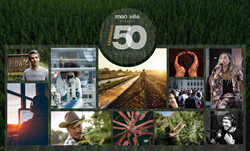 "The Cannabis 50 represents inspiring individuals and organizations that have impacted the cannabis and hemp sectors in positive ways." says Scott Hammon, Leader of the MGO | ELLO Cannabis Practice
LAS VEGAS (PRWEB) December 13, 2019
The MGO and ELLO Cannabis Practice, leaders in providing accounting, investment banking and consulting services to the cannabis industry, announced the launch of the "The Cannabis 50," an industry review that highlights companies, organizations and people of varying backgrounds and expertise that are making a positive impact on the cannabis and hemp industries.
"The Cannabis 50" recognizes those that transformed, uplifted and inspired the growth and maturation of the cannabis industry with a focus on acts of impact in 2019. Honorees are highlighted across various categories, such as innovation in business /product development, social impact, activism or regulatory change, education, and cultural influence.
Kevin O'Connell, CEO of MGO says, "The list makers share a common thread. They are all advocates and leaders within the cannabis and hemp industries, pushing boundaries to increase legitimacy, reduce stigma, and help the maturation of the medical and adult-use markets, as well as the ancillary businesses needed to ensure that this sector flourishes."
"2019 has been about more than just growth and innovation, the cannabis sector has had to weather some challenges," said Scott Hammon, leader of the MGO Cannabis Practice. "The Cannabis 50 represents inspiring individuals and organizations that have impacted the sector in positive ways."
Honorees will also be included in an accompanying "Cannabis Impact Review," and featured in expanded interviews and additional content, to be rolled out throughout 2020, on Cannabis50.com.
Cannabis 50 honorees include:
1. Acreage Holdings
2. Al Harrington, Viola Brands
3. Aliza Sherman, Ellementa
4. Americans for Safe Access (ASA)
5. Ariel Clark, Clark Neubert LLP
6. BlackRock Holdings
7. Bloom Farms
8. Canadian Securities Exchange
9. Charlotte's Web
10. Damian Marley
11. Duane Morris
12. Eaze
13. Eben Britton, Athletes For CARE
14. Emily Paxhia, Poseidon
15. Flow Kana
16. Glass House Farms
17. Green Thumb Industries
18. Halo Canna
19. Harvest Health and Recreation
20. HeadSet
21. House of Representatives
22. Jim Belushi, Belushi's Farm
23. Jonathan Page, Aurora Cannabis
24. Killer Mike
25. Lowell Herb Co.
26. Mara Gordon, Aunt Zelda's
27. Matt Barnes
28. Medicine Man Technologies
29. Michigan Pure Med
30. Mindy Segal, Mindy's Edibles
31. Minority Cannabis Business Association
32. MJBizDaily
33. National Cannabis Industry Association (NCIA)
34. Native American Finance Officers Association (NAFOA)
35. NORML
36. Ricki Lake & Abby Epstein, Weed The People
37. Robert Flannery, Dr. Robb Farms
38. Scotts Miracle Gro
39. Seke Ballard, Good Tree Capital
40. Steve DeAngelo, Harborside
41. Sue Sisley, MAPS
42. Sundie Seefried, Partner Colorado Credit Union
43. Towelie, South Park
44. Tracy Ryan, CannaKids
45. Trulieve
46. University of California - Irvine
47. University of Maryland, Baltimore
48. Vireo Health
49. Vivien Azer, Cowen & Company
50. Winona LaDuke, Winona's Hemp and Heritage Farm
To sign up to receive a copy of the "Cannabis Impact Review" visit Cannabis50.com. To learn more about the MGO | ELLO Cannabis Practice visit http://www.mgocpa.com and http://www.elloinsights.com. To learn more about ELLO Capital visit http://www.ellocapital.com.
MGO and ELLO executives will also be at MJ Biz Con in Las Vegas through December 11-13 at booth #3228.
About MGO | ELLO Cannabis Practice
MGO is a CPA and advisory firm that offers a suite of accounting and advisory services to help companies, investors, and government agencies navigate the complexities of the cannabis market. Through a strategic alliance with ELLO—a cannabis business ecosystem providing investment banking, M&A advisory, capital raising, and strategic advisory services—we shape systems, processes, and transactions to support a sustainable, responsible future for cannabis.
Media Contact
Christina Panta
KCSA Strategic Communications
212.896.1208
cpanta@kcsa.com