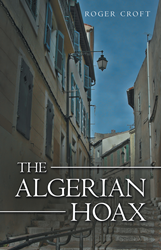 TORONTO (PRWEB) November 17, 2021
Author Roger Croft returns with the highly anticipated fifth novel in his Michael Vaux espionage thriller collection, "The Algerian Hoax." Journalist-turned-MI6-operative Vaux's latest assignment takes him to Marseille, France, where he is tasked with infiltrating a terrorist cell plotting to destroy the Djamaa el Djazaïr mosque in Algiers. However, unbeknownst to him, the mission is a setup, and he is the real target for surveillance.
Back at MI6 Department B3 headquarters, evidence points to a mole among the senior operatives. An internal inquiry resurfaces Vaux's old ties to the Syrian government and other Arab officials and fuels accusations of treason. Blinded by his own distaste for Vaux, deputy director Alan Craw devises a plan to lure him into a trap and reveal his true allegiance. Meanwhile, Craw's misguided efforts give rise to a serious threat, and the innocent Vaux finds himself targeted on all sides.
Weaving in Middle Eastern geopolitical tensions with scandal and conspiracy, Croft crafts a gripping story that appeals to spy novel enthusiasts, political fiction fans and history buffs alike. Whether read in sequential order or as a standalone novel, "The Algerian Hoax" will leave readers on the edge of their seats as they follow Vaux's pending fate to the very last page.
"A taut, engrossing tale about spies and their dangerous webs of duplicity," wrote Kirkus Reviews.
"First-rate… A finely polished amalgam of conspiracies and intrigue," wrote The Prairies Book Review.
"The Algerian Hoax"
By Roger Croft
ISBN: 9781480891890 (softcover); 9781480891906 (hardcover); 9781480891883 (electronic)
Available from Amazon, Barnes & Noble and Archway Publishing
About the author
Roger Croft is a former journalist whose reports and feature articles have appeared in numerous publications including The Economist, Sunday Telegraph, and Toronto Star. He has also worked in Cairo, Egypt, where he wrote editorials for The Egyptian Gazette. His past novels include "The Wayward Spy," "Operation Saladin," "The Maghreb Conspiracy" and "Warehouse of Souls." To learn more, please visit rogercroft.com.
Review Copies & Interview Requests:
LAVIDGE – Phoenix
Leslie Standridge
480-998-2600 x 586
lstandridge(at)lavidge(dot)com