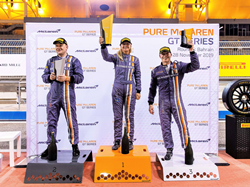 "I'm quite excited to do my part to raise awareness for RP," she says, "because I know how strong the bond of the racing community is."
NEW YORK (PRWEB) February 10, 2020
The Relapsing Polychondritis Foundation is pleased to announce Mia Flewitt, reigning two-time Pure McLaren GT Series champion and British GT driver, will be a Race for RP driver in 2020. Mia is a sensation in the motorsport world and a passionate ally in the fight against relapsing polychondritis (RP) and other autoimmune diseases.
Flewitt has spent the past three decades in the automotive world, starting as a car builder for Volvo and later becoming an engineer for Tom Walkinshaw Racing, where she was instrumental in the manufacture of the Renault Clio V6. In 2014, she began racing historic cars with her husband, Mike Flewitt, and inspired by that experience — and a test drive in a McLaren 650S — enrolled in McLaren's Performance Academy later that year.
Flewitt has won the Pure McLaren GT Series Championship twice, which is a testament to both her intellect and grit. Indy 500 Winner Kenny Bräck says, "Mia's background as an automotive engineer provides her with a good understanding of vehicle dynamics. Along with her smooth driving style, that's a combination you don't see very often in amateur drivers." According to Mika Häkkinen, a double Formula 1 world champion, Mia is "a great example for the motorsport community on how far determination and true passion can take you even though you start your racing career later."
In 2020, Flewitt and McLaren factory driver Euan Hankey will race Balfe Motorsport's second full season British GT4 entry in the Pro/Am class. Mia rejoins Balfe Motorsport after racing in three rounds of the 2019 British GT Championship season. In December, Flewitt and Hankey, her driver coach of the past two years, finished P2 with the team in the Gulf 12 Hours in Abu Dhabi.
Recently, Flewitt focused her passion on raising awareness for relapsing polychondritis, a currently incurable autoimmune disease that causes the body to attack its own cartilage. RP landed on Flewitt's radar through her friendship with fellow race car driver Neil Langberg, and his wife and the founder of Race for RP, Nancy Linn.
"I had never heard of this disease before," says Flewitt, "but then I met Nancy. My husband and I would be out to dinner with her and Neil, and sometimes she'd have to cut the meal short and go to the hospital because of a flare-up. Seeing how incredibly strong Nancy is, I wanted to help in my own little way."
As the 2020 season approaches, Flewitt is excited to see the Race for RP brand on her race suit and car, which will zip around race courses throughout Europe, North America, and the Middle East. Fresh off her back-to-back victories during the past two years, Flewitt's goal now is to win the British GT Championship.
Flewitt will also appear at events to help raise awareness and support for RP, including at a Pure McLaren event in October, where certain RP researchers and advocates will be able to climb into her McLaren for "hot laps" around the track. "I'm quite excited to do my part to raise awareness for RP," she says, "because I know how strong the bond of the racing community is."
The Pure McLaren GT Series starts its third season on April 2nd with a 5.4-kilometer course in the Sakhir desert of Bahrain. From there, the drivers will race Spa-Francorchamps (Belgium), Silverstone (England), Laguna Seca (United States), and Circuit of the Americas (United States).
About Relapsing Polychondritis
Relapsing polychondritis (RP) is a debilitating and sometimes fatal autoimmune disease that is characterized by inflammation of cartilage and other tissues throughout the body. The disease affects multiple organs, particularly cartilaginous structures such as the ears, nose, airways and joints as well as eyes, skin, heart valves and brain. The cause of RP is unknown. For more information, visit http://bit.ly/RP_Poster.
About Race for RP
Race for RP supports research and awareness programs for relapsing polychondritis (RP) and related diseases. For more information, visit RaceforRP.org. Follow Race for RP on Instagram, @RaceforRP.
About the Relapsing Polychondritis Foundation
The RP Foundation's purpose is to facilitate education, awareness and research initiatives that improve the quality of life for patients with RP. For more information, visit http://www.polychondritis.org.
About the Pure McLaren GT Series
The Pure McLaren GT Series is an FIA sanctioned international one-make racing championship, based around the astounding McLaren 570S GT4. The series provides an opportunity for McLaren owners with track driving experience to take their first steps into racing. Competitors are supported each step of the way by a team of motorsport experts with over five decades of racing know-how.