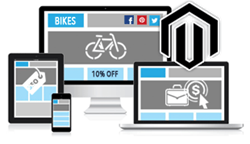 Retailers who do not have mobile websites are wasting tremendous sales opportunities
Miami, Florida (PRWEB) July 05, 2013
Although Americans are using their smartphones and tablets more and more to get information about products and services, they are still using laptop and desktop computers to make a slim majority of their online purchases. The percentage of Internet purchases as a dollar amount at online retailers via smartphone is growing rapidly, however. Miami Web Design company, Sales Secret, has increased it's investment in mobile focused design and strategies to help its customers access this growing market.
According to a study conducted by comScore, 48 percent of the visits to online retailers are made by smartphone and tablet users (34 percent smartphone, 14 percent tablet). Overall usage of the Internet in the U.S. by smartphone and tablet users also stands at 48 percent. Americans spent $6.4 billion on online purchases through mobile devices in the first quarter of 2013, which is a 59 percent increase from the first quarter of 2012. Americans made 11 percent of their online purchases via mobile devices during the first quarter of 2013, up from 8 percent during the first quarter of 2012. The reason for the large increase in the dollar amount for mobile purchases versus the small increase in the number of sales may be due to several factors.
"Many of those dollars are being captured by retailers who understand the importance of having a mobile website," said Robert Hadland of Sales Secret. "Retailers who do not have mobile websites are wasting tremendous sales opportunities. Customers want to be able to buy things through their phones or tablets. They may change their mind about a purchase if they have to wait until they get home to use a computer, or they will make their purchase from a competitor that does have a mobile website."
Sales Secret provides a range of solutions through its customized Magento mobile websites. Online purchasing can be integrated with inventory, logistics and reporting. The sites are easily customizable and can be configured for retailers who wish to market their products or services to customers who speak different languages.