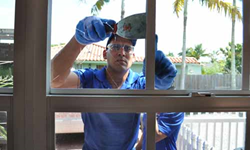 We understand that replacing windows or glass doors at a property is considered an investment
Miami, Florida (PRWEB) April 26, 2016
April 26, 2016 – Miami, Florida
Express Glass of Miami, the city's top-rated glass repair and glass replacement service, has announced a clarification about the company warranty program. Many unscrupulous glass services offer bogus or difficult-to-understand warranties on their work, parts, and products. Consumers have experienced confusion on this important warranty issue as scams have proliferated in early 2016. Therefore, the company is issuing a warranty clarification in public via press release and post to the blog.
"We understand that replacing windows or glass doors at a property is considered an investment," explained Yaniet Santos, general manager of Express Glass. "However, the Internet has proliferated terrible scams on every imaginable topic, including glass repair and replacement. That's why we have issued a clarification about our warranty program. When new high impact glass or insulated glass has been installed, they can count on our warranty to get the most out of their investment."
For details about the Express Glass warranty program, go to; http://www.expressglassfl.com/storefront-glass-repair/. Information about Miami glass door repair and replacement is available, including no cost estimates. Emergency glass repair information can also be found. Interested parties are urged to reach out to the company, first, for an estimate, and then if work is engaged, for individual written clarification on warranty opportunities.
Miami Locals Get the Most out of an Investment with Glass Door Repair and Replacement Warranties
Miami locals can rely on two weather conditions every year: high winds from hurricanes and high temperatures during summer. These issues are a part of Florida living and property owners invest money to protect a home or business from both. Glass door repair or replacement is a normal investment to help keep properties safe and comfortable during extreme weather. High impact glass can protect a property from hurricane-force winds and insulated glass can keep homes cool during the sweltering summer months. Once new glass has been installed, residents may have concerns about how long the investment will last.
However, these new glass technologies are expensive, and warranties are required to safeguard the investment.
For this reason, Express Glass has issued a clarification to Miami about the company warranty program for glass door replacement and window repair. High impact, or hurricane resistant glass is guaranteed by warranty for five years. Glass door replacement with insulated glass is under warranty for ten years. Property owners do not need to worry that newly installed glass will survive the next tough weather season. A warranty guarantees the amount of time an owner can expect a new investment in sliding glass door repair or window replacement to last in Miami.
About Express Glass Repair and Board Up
Express Glass and Board Up Service Inc. is a family owned and operated glass repair business with more than 20 years of experience. Professional technicians and the large variety of inventory make Express Glass a top glass repair service. If customers are looking for Miami glass door replacement and repair, Ft. Lauderdale glass repair as well as glass repair in Delray Beach, please reach out to the company for a free estimate. If customers need a 24/7 Sliding Glass Door repair service in Miami or Ft. Lauderdale technicians are standing by. The company specializes in sliding glass door repair and window glass repair; technicians will handle any glass replacement situation efficiently. Home or business glass repair is the company's main priority.
Express Glass Repair and Board up
http://www.expressglassfl.com/