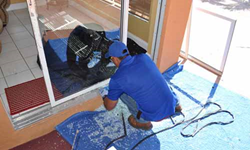 Our new post can help Miami locals consider when to repair or replace sliding class and the importance of calling a professional to do it.
Miami, Florida (PRWEB) August 02, 2017
Express Glass and Board Up, glass repair professionals serving Miami and all of South Florida, is proud to announce a new post on the proverbial challenge of "repair" vs. "replace" when it comes to sliding glass doors.
"A lot of our customers have come to us after beginning a do-it-yourself project on their patio or other sliding glass doors in Miami. We understand, it's summer, and they think repairing a sliding glass door is easy, but it's not," explained Yaniet Santos, general manager. "Our new post can help Miami locals consider when to repair or replace sliding class and the importance of calling a professional to do it."
To review the new post added to the Express Glass summer DIY series go to http://www.expressglassfl.com/blog/sliding-glass-door-repair/repair-replace-miami-sliding-glass-door-ask-us. Tips and advices about Miami sliding glass repair and choosing between repairing or replacing can be reviewed. Information concerning 24/7 emergency glass repair for commercial businesses or homeowners can also be evaluated. To view information specific to Miami glass repair services, visit http://www.expressglassfl.com/miami-glass-window-repair/.
"Do-it-Yourself" Miami Sliding Glass Repair can turn out to be a Big "Don't Do It Yourself"
Locals in Miami may have questions about sliding glass repair or replacement. Choosing a time to completely upgrade a patio door may be confusing. The new blog post, part of a summer series program, addresses the challenge of choosing to repair or replace a sliding glass door. Another key component could be to contact an experienced glass repair technician instead of managing the task alone.
A new market has emerged in the home improvement sector, i.e. pro-active do-it-yourself homeowners. Property owners, including Florida residents may see the benefit of simple DIY projects. Managing a task by watching a quick video can turn out to be easy and budget-friendly. If a homeowner plans to upgrade the curb appeal of a Miami home, adding new planters and flower beds might be a simple job. Purchasing a few new tools and supplies could be all that's required to get the job done. If the front yard needs a new walkway, a property owner may consider calling a professional instead. Perfectly pouring concrete can take more skill than a quick on-line video can offer. A property owner may realize calling in a professional could save both money and time. If the task is sliding glass repair, contacting a professional may also be the smarter path to take.
For these reasons, Express Glass & Board Up, a highly-rated sliding glass repair and replacement company serving Miami and the Florida community has announced a new blog post on the "don'ts" of "Do it yourself."
About Express Glass and Board Up
Express Glass and Board Up Service Inc. is a family owned and operated glass repair business with more than 20 years of experience. Their professional technicians and the large variety of inventory make Express Glass the top glass repair service. If customers are looking for Miami sliding glass repair or Ft. Lauderdale glass repair as well as glass repair in Delray Beach or West Palm Beach glass repair, please reach out to the company for a free estimate. If customers need a 24/7 Sliding Glass Door repair service in Ft. Lauderdale or Boca Raton or Miramar, technicians are standing by. The company specializes in sliding glass door repair and window glass repair; technicians will handle any glass replacement situation efficiently. Home or business glass repair is the company's main priority.
Express Glass Repair and Board up
http://www.expressglassfl.com/