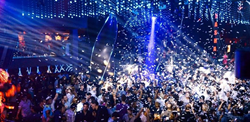 People make thousand dollar flight and hotel reservations, but find it difficult to do the same for nightclub and pool parties
Miami, FL (PRWEB) May 04, 2016
MyRSVP.com is a game-changing new service designed to put the power back in the hands of the club-goer. This revolutionary approach expedites entry and takes the confusion out of booking VIP tables, bottle service, cabanas and more at Miami's favorite hotspots.
It's never been easy to make reservations for nightclubs and pool parties. There are many sites and engines that offer that solution for hotel and restaurant reservations, so why not nightlife?
Already an invaluable resource in Las Vegas, New York City, London and continuing to expand, MyRSVP.com offers exclusive access to the biggest pool parties and nightclubs now in South Beach. The legendary party destination is home to some of the country's best-known venues, including Story Nightclub, LIV, Nikki Beach, E11EVEN, Club Space and Hyde Beach. What's more, MyRSVP has taken out the leg work and puts the consumer in touch with friendly and experienced hosts, assigned per venue, that will clearly articulate the cost for bottle service, taxes, gratuities and all other fees.
Miami is known for more than a wild nightlife, it's also home to many of the most mouth-watering restaurants. From the finest steakhouses to the top sushi bars to the best-known casual dining spots, South Beach offers a vast and varied mix of exquisite eateries. With favorites like Meat Market, Doraku, Hakkasan, Cavalli, and MC Kitchen, MyRSVP's helpful hosts always know the top places to eat.
"I wouldn't use anyone other than MyRSVP," raves Bristol City's Aaron Wilbraham. "Best prices and genuine good guys; reliable and never let me down once."
Aaron is just one of the countless celebrities that can't stop talking about MyRSVP. "Whether you want to book a VIP booth at a nightclub, a cabana at a pool party, or even a popular restaurant, they will take care of it all and provide you with the best options available within a budget that works for you," notes Don Gauvreau, Co-CEO of PharmaFreak and SD Pharmaceuticals.
MyRSVP.com promises a brand new approach that gives club-goers complete control over Miami's beach parties and nightlife like never before.