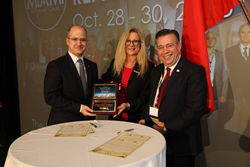 "Turkish people love Miami. We share the same joy of life, the same good food, music, friendship. We feel at home in Miami and you will have the same hospitality in Turkey." --- Consul General of Turkey Burc Ceylan
MIAMI (PRWEB) November 20, 2018
The MIAMI Association of REALTORS® (MIAMI) signed an international honorary reciprocal agreement with the Turkey Federation at the 24th Annual Miami International Real Estate Congress in Coral Gables, increasing MIAMI's international partners to 179 (the most of any U.S. Realtor association). The alliance will create business opportunities for MIAMI members, enhance Miami's global position and strengthen the local economy.
"I'm looking forward to the unfolding of this relationship and the potential of trade missions to Turkey and back," Consul General of Turkey Burc Ceylan said during Congress. "Turkish people love Miami. We share the same joy of life, the same good food, music, friendship. We feel at home in Miami and you will have the same hospitality in Turkey."
MIAMI member Emel Onur, the National Association of REALTORS® (NAR) liaison to Turkey, was instrumental in helping MIAMI connect with TEMFED and as Founder and North America President of TARA Turkish American Real Estate Association signed on behalf of TEMFED President Haci Ali Taylan.
"This agreement will be a bridge connecting any of our MIAMI members interested in doing business with the Turkish community to the members of TEMFED in Turkey," said Onur, a Broker with Lead Consulting Group LLC in Boca Raton.
Turkey and Miami are Globally Connected
Turkish Airlines has flown daily, nonstop flights from Miami to Istanbul since May 2015. The nonstop flights have increased business opportunities in every field between the two regions. Turkey has elevated its presence in Miami, including adding a consulate here.
"We are honored to sign this historic agreement with TEMFED and look forward to a productive partnership that will allow us to mutually identify important opportunities for collaboration," said 2018 Chairman of the Board, George Jalil. "As Turkish buyers, investors and business enterprises expand their presence in Miami and South Florida, this relationship will help generate business opportunities between our members and exposure for our respective global market."
Turkish buyers have increased their real estate purchases in Miami. Turkish residents love Miami's weather, lifestyle, entertainment, shopping and real estate price appreciation.
Among high-profile Turkish investments in South Florida is the 70-story Okan Tower Miami in Downtown's Arts and Entertainment District developed by Okan Group. Another notable investment is Island Gardens on Watson Island, developed by Mehmet Bayraktar's Flagstone Property Group. Also, the Turkish conglomerate Suzer Group with Israel-based ASRR Capital Ltd. purchased an oceanfront building in Surfside in 2015.
TEMFED: Largest Professional Non-Government Organization in Turkey
Founded in 2005, TEMFED is the largest professional non-government organization in Turkey. More info: http://www.temfed.org.tr
The Power of International Partnerships
MIAMI, the largest local Realtor association with 47,000 members, has been signing honorary reciprocal agreements with international real estate associations since 1996. MIAMI has bilateral agreements with real estate associations in more than 50 countries. The organizations are part of MIAMI's International Referral Network, which links South Florida properties with more than 100,000 real estate professionals around the world.
MIAMI's International Referral Network provides MIAMI members with a powerful competitive advantage, which benefits buyers, sellers and the communities they serve. Consumers should seek real estate professionals who are members of the MIAMI Association of REALTORS® because they have international expertise, professional network and marketing resources to better serve them.
For a full list of MIAMI International Partners, visit MiamiRealtors.com/internationalpartners
About the MIAMI Association of REALTORS®
The MIAMI Association of REALTORS® was chartered by the National Association of Realtors in 1920 and is celebrating 98 years of service to Realtors, the buying and selling public, and the communities in South Florida. Comprised of six organizations, the Residential Association, the Realtors Commercial Alliance, the Broward Council, the Jupiter Tequesta Hobe Sound (JTHS-MIAMI) Council, the Young Professionals Network (YPN) Council and the award-winning International Council, it represents 47,000 real estate professionals in all aspects of real estate sales, marketing, and brokerage. It is the largest local Realtor association in the U.S., and has official partnerships with 179 international organizations worldwide. MIAMI's official website is http://www.MiamiRealtors.com