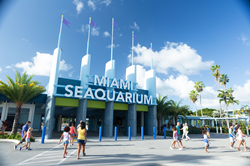 "We are so thankful for the support from the local Miami community over the last several months, said General Manager Bill Lentz. "With conditions improving locally, we can expand our operating hours to provide more opportunities to visit while schools are out for spring break."
MIAMI (PRWEB) March 05, 2021
Miami Seaquarium, South Florida's best aquarium and favorite family visitor attraction, will extend operating days for three weeks during spring break, starting March 11.
Miami Seaquarium has safely welcomed guests back since early November despite the ongoing COVID-19 pandemic. Beginning Thursday, March 11, MSQ will be open daily until April 4, to provide an educational yet fun experience for families look to explore during the spring break period. Miami Seaquarium continues to focus on health and safety through a series of measures aligned with recommendations from the Centers for Disease Control and Prevention. The Seaquarium has seen steady crowds since reopening, an encouraging sign after being closed for more than half of 2020.
"We are so thankful for the support from the local Miami community over the last several months, said General Manager Bill Lentz. "With conditions improving locally, we can expand our operating hours to provide more opportunities to visit while schools are out for spring break."
Visitors can learn about Miami Seaquarium's historic animal rescue and rehabilitation program, viewing recently rescued manatees and sea turtles receiving attention from the Animal Care team. There's also baby Mia, the dolphin calf born in October and named after her hometown!
Easter celebrations will also begin in March. This year guests will find a new, health-conscious scavenger hunt around the Seaquarium! Explorers will receive a treasure map that will lead them on an educational yet very fun adventure throughout the park. Sea explorers will then have to follow each egg-citing clue which will lead them to the biggest treasure of all, "Salty's Easter Goodies." Scavenger hunt is included with park admission. Complimentary goodie bag will be given to children 12 and under who complete the scavenger hunt.
For more information, please visit MiamiSeaquarium.com or call 305-361-5705.
About Miami Seaquarium & Palace Entertainment
Miami Seaquarium is a marine life park, located on the beautiful Biscayne Bay in South Florida that provides visitors with a greater understanding and appreciation for marine life through educational presentations and exhibits. The Park is an accredited member of the Alliance of Marine Mammal Parks and Aquariums and has been awarded the coveted Humane CertifiedTM certification, reinforcing Miami Seaquarium's commitment to
exceeding the standards of excellence for marine mammal care, husbandry, conservation and education. Miami Seaquarium is owned and operated by Palace Entertainment, one of the leading US leisure park operators
Palace Entertainment is one of the leading leisure park operators in the United States and is owned by Parques Reunidos. Palace Entertainment owns and operates 21 major entertainment and educational venues across 10 different states, offering a wide range of family friendly rides, attractions and educational experiences.