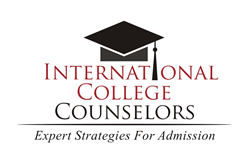 While it is true that the Common Application essay prompts are flexible enough for any personal statement or story, it also helps to know just what admissions officers look for when they read them.
Miami, Fla. (PRWEB) April 29, 2015
Attention Juniors: The 2015-2016 college application season has officially begun. The Common Application, otherwise known as the Common App, released its list of essay prompts.
"While it is true that the Common Application essay prompts are flexible enough for any personal statement or story, it also helps to know just what admissions officers look for when they read them," said independent education consultant Mandee Heller Adler, CEO and founder of International College Counselors.
PROMPT #1: Some students have a background, identity, interest, or talent that is so meaningful they believe their application would be incomplete without it. If this sounds like you, then please share your story.
This first question is broad and gives a writer a lot of latitude. The prompt asks students to write about either a passion or something that defines them as a person. This common app essay should be built around something unique and specific to each person and no one else. If "background" is central to an identity, it could involve any life event that shaped the student. Same with "identity," it is important to choose a topic that has shaped identity on a fundamental basis. The choice to write about an "interest" or "talent" should include reflection on how it shaped the writer. It's critical to find a way to write about an interest or talent that reveals more than an activity that is liked or success at doing it.
PROMPT #2: The lessons we take from failure can be fundamental to later success. Recount an incident or time when you experienced failure. How did it affect you, and what did you learn from the experience?
While the prompt asks about failure, admissions really wants to know how a student thought he or she failed with the addition of how the failure was turned into a personal success. How a student answers this question will reveal to the committee how do they deal with hardship. Do not choose a trite failure like not winning a race or something that was dangerous. If the story cannot be positive, do not choose to answer this question. The admissions office does not really want to know about failure, but how a student overcame it.
PROMPT #3: Reflect on a time when you challenged a belief or idea. What prompted you to act? Would you make the same decision again?
Speak passionately about a belief or an idea, in a compact story with a beginning, middle and end. Responses are supposed to be deeply personal, but make sure the idea of belief is not controversial. The admissions committee includes this prompt for students who define themselves by what they believe in and/or what they are willing to stand up for.
PROMPT #4: Describe a problem you've solved or a problem you'd like to solve. It can be an intellectual challenge, a research query, an ethical dilemma-anything that is of personal importance, no matter the scale. Explain its significance to you and what steps you took or could be taken to identify a solution.
Students who elect to tackle this particular question will have the opportunity to demonstrate creative and critical thinking skills. Admissions directors are asking for a problem so that it is easier to build a story around the core answer. Note the emphasis that this problem needs to have "personal importance, no matter the scale." One variation of this can be a community service project. Another variation can include not eating meat, bullying, not having money, etc. Even an everyday problem with significance can be turned into a great essay.
PROMPT #5: Discuss an accomplishment or event, formal or informal, that marked your transition from childhood to adulthood within your culture, community, or family.
In this prompt, both "accomplishment" and "event," leave themselves open to interpretation. The right story will be one that has an element of transition and transformation. In other words, students need to choose an event, challenge or experience where they learned something that made them feel more capable and grown up. Everyone is different so an event or accomplishment might encompass anything from birthdays and weddings (formal), to achievements like earning an award or winning an election (informal). Other topics can be something as simple as working with a mentor.
Do not wait to write the essay. The sooner the essay is started the better.
About International College Counselors
The college advisors at International College Counselors help students from all over the world find, apply to, and gain acceptance into the college of their dreams. The expert educational consultants at International College Counselors are dedicated to helping students and their families successfully navigate the college admission process. Founder and CEO of International College Counselors, Mandee Heller Adler, is the author of the book, "From Public School to the Ivy League: How to get into a top school without top dollar resources."
For more information on answering the 2015-2016 Common App essay prompts or for information on college admissions, visit http://www.internationalcollegecounselors.com or call 954 414-9986.