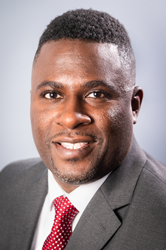 NEW YORK (PRWEB) February 09, 2023
The NHP Foundation (NHPF) announced that Micah Hunter, Project Manager Acquisitions & Development will moderate a conversation with New York City Council Speaker Adrienne Adams, the first African-American speaker of the City Council, Monday February 13 from 8:30 – 10:00 am at LISC NYC - 28 Liberty St, 34th Floor, New York, NY. The event is sponsored by the Rising Leaders Network (RLN) of the New York Housing Conference (NYHC) and hosted by Local Initiatives Support Corporation (LISC). Micah is a Board Member of RLN.
The conversation is designed to showcase Speaker Adams' housing platform, including her recently released Planning & Land Use Toolkit and Housing Agenda. During her tenure as Speaker, the City Council has approved several important and contentious rezonings for housing and affordable housing.
The event is part of the Winter Thought Leader series, free monthly educational discussions on affordable housing followed by a Q&A moderated by a member of NYHC's RLN.
More information on this event can be found here.
About the Rising Leaders Network, New York Housing Conference
New York Housing Conference's Rising Leaders Network (RLN) is a professional organization specifically for emerging leaders working in the affordable housing community in New York. Through networking, education, advocacy and volunteer opportunities, the RLN allows young housing professionals to meet key people, to gain experience and to get involved with issues affecting our industry. The RLN's programming helps connect and foster the next generation of talented leaders to ensure affordable housing in New York remains strong and vital for the future. RLN membership is free and gives to access to all of the RLN's educational events, advocacy efforts, network, and volunteer days. Click here to learn more.
About the NHP Foundation
Headquartered in New York City with offices in Washington, DC, and Chicago, IL, The NHP Foundation (NHPF) was launched on January 30, 1989, as a publicly supported 501(c)(3) not-for-profit real estate corporation. Since that time NHPF has invested nearly $1.2 billion in the preservation of affordable housing throughout 15 states and the District of Columbia. The investing of these funds has resulted in economic stability for thousands of seniors, families, and children. Communities have been enriched, school systems have remained intact, local businesses sustained their patrons and residents retained their employment. Through Family-Centered Coaching, NHPF's subsidiary Operation Pathways engages with, and assists, families experiencing poverty and other hardship, to problem-solve together. Through partnerships with major financial institutions, the public sector, faith-based initiatives, and other not-for-profit organizations, NHPF has 57 properties, including more than 10,000 units. For more information, please visit http://www.nhpfoundation.org.