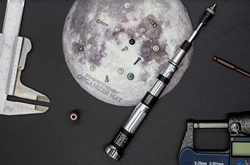 VIGO, Spain (PRWEB) December 05, 2018
The evolution of technology has proven that slim, small and lightweight is preferred amongst consumers, but because traditional household tools are often too big, this evolution often becomes problematic when fixing, installing or disassembling a device or small object. Because of this, Spanish manufacturing company MICATON has developed Magnet Driver™ Space Rocket, an all-in-one precision screwdriver and toolkit that can be utilized for any project, no matter the size, with ease. Today Magnet Driver™ Space Rocket launched on Kickstarter in the hopes of raising $25,000 in 40 days.
The Magnet Driver™ Space Rocket screwdriver has an aluminum extender that is extendable to four different heights (5", 6", 7", 8"). With two extra-short direct positions, for a total of six different working distances, The Magnet Driver™ extender works to reach even the most difficult of places. Magnet Driver™ Mini accessories, which attach to one of 20 extra-long S2 steel bits, have a neodymium magnetic grip that is designed for extreme precision and control. It holds small screws in place and ensures safe, efficient, single-handed driving. This tiny screwdriver eliminates the typical hassle of losing and searching for dropped screws.
The Magnet Driver™ Space Rocket commemorates the 50th anniversary of the Apollo 11 moon landing, emulating the Saturn V spaceship. Details of the Moon and the place and date of the first man landing on the moon are intertwined into the different pieces in the toolkit.
With a full spectrum of stem and bit sizes, Magnet Driver™ Space Rocket has the capability to aid in the repairment of mobile devices, tablets, laptops, cameras, computers, toys, glasses, watches, and any other products with small screws. Lightweight, yet extremely durable, the device is made from 6061 aluminum CR-V and comes complete with an organizer mat and carrying case in order to travel with ease. Magnet Driver™ Space Rocket is currently available on Kickstarter starting at $24. To learn more, visit pr.go2.fund/magnetdriver.
About MICATON
MICATON is a company established in the year 2010 with the aim of developing, manufacturing and commercialization of multiple solutions with a high technologic component and innovation, which will make both everyday domestic and fixing jobs easier than ever. For more information, visit https://www.micaton.com/.