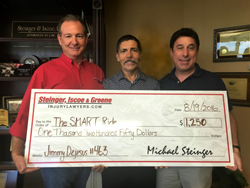 Miami, Florida (PRWEB) November 17, 2016
Steinger, Iscoe & Greene is excited to announce that they are sponsoring a rider in the 2016 SMART Ride, a two-day, 165-mile ride in South Florida to raise money and awareness for HIV/AIDS. The law firm has pledged $1,250 towards the ride, 100% of which will go to HIV/AIDS-related causes. Steinger, Iscoe & Greene is also extraordinarily proud to announce that the rider they are sponsoring is one of their own - Jimmy Dejesus, an employee of the firm for over eleven years.
The SMART Ride will begin in Miami on November 18th and riders will travel all the way to Key West. 100% of the money raised by riders will go to AIDS services in Florida. Over the last twelve years, the ride has raised more than $7.3 million for AIDS service organizations in Florida. The SMART Ride (Southern Most AIDS/HIV Ride) aims to make a real and significant difference in the lives of those infected, affected and at risk for HIV/AIDS.
Steinger, Iscoe & Greene is thrilled at being able to sponsor this event. Michael Steinger, partner and co-founder, said in a statement that the firm is passionate about giving back to South Florida and being involved in their local community, and that sponsoring the SMART Ride is an expression of that commitment.
The SMART Ride is organized by TSR Adventures, Inc., a not-for-profit organization. TSR Adventures, Inc. is committed through the combination of individual contributions and public/private partnerships to creating, producing and/or overseeing community-based events in which 100% of what the participant raises is returned to benefiting non-profit organizations. For more information visit their website: thesmartride.org.
About Steinger, Iscoe & Greene
Steinger, Iscoe & Greene is a proven legal team whose number one goal is to get injury victims throughout Florida every dollar they truly deserve for their injuries. The firm and its partners, Michael S. Steinger, Gary T. Iscoe, & Sean J. Greene have successfully recovered over one billion dollars for their clients and handled thousands of cases, including: auto accidents, bicycle accidents, birth injuries, product liability, catastrophic cases and workers' compensation, since 1997. The entire legal team is committed to representing and fighting for injury victims' best interests, giving each client insight into their individual rights as it relates to the law.
With more than 30 lawyers, 140 legal professionals, and offices throughout South Florida - Miami, Fort Lauderdale, West Palm Beach, Port St. Lucie, Okeechobee, Ft. Myers, Orlando, Tampa and San Diego, California, the firm is ready to advocate for the best interests of injury victims coast-to-coast while offering the No Fee Guarantee®.