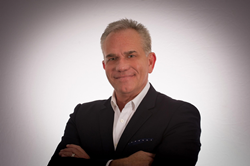 We are excited to bring Michael's extensive background and knowledge of the design world to Fräsch
ARLINGTON, Texas (PRWEB) September 28, 2020
Michael Ackelbein, formerly VP of Global Sales at Company C, brings 20+ years of diversified executive leadership experience in sales, strategy and marketing within the contract, architectural products, and textile industries. He joins the Fräsch team as a disciplined but never old-school sales leader excited about the opportunities within the brand and product lines. Michael is passionate about the interiors business and has the mentality of being a "forever-student". By building amazing relationships and leveraging long-standing connections, he intends to help grow the company the right way.
In his role prior to Fräsch, Michael was vital in developing and implementing customer loyalty programs that resulted in a 39% YOY sales increase and managed all sales channels resulting in 6% revenue growth.
"We are excited to bring Michael's extensive background and knowledge of the design world to Fräsch," says Fräsch Co-Founder and EVP Slavi Younger. "His understanding of how to do more than 'just sell' by truly providing a state-of-the-art experience to the client is what really attracted us to Michael."
About Fräsch
Fräsch is an innovative acoustical design company that designs and manufactures sustainable acoustical solutions that enhance the visual style of any space. Solutions include acoustical baffles, lighting, wall treatments and accessories. Fräsch is a subsidiary of Catalyst Acoustics Group.
About Catalyst Acoustics Group
Catalyst Acoustics Group is the parent company of an elite group of acoustic, seismic, vibration and noise control companies that together offer the broadest portfolio of noise control solutions in the market today. The independent brands, channels to market, products and services offered by each business remain unique while leveraging the scale, deep functional expertise, broad channel reach and significant financial resources.