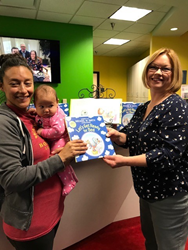 I want to serve the next generation well. That's why I created Nurturing Steps, to provide stories and songs that will help shape the faith of our newest generation.
NASHVILLE, Tenn. (PRWEB) December 03, 2018
Multi-Platinum, three-time Grammy® Award winning artist and best-selling author Michael W. Smith launched Nurturing Steps™ earlier this year, an infant and toddler series with the simple mission to enliven a child's journey with hope and faith through music and storytelling. In the spirit of this holiday season, Smith will be giving away the first two books in the series from Zonderkidz™ to brand new parents while they are still at the hospital and in newborn nurseries surrounding his annual Christmas tour.
The gift baskets will include the NBC TODAY-lauded series' Let's Get Ready for Bed, released this month, and Nighty Night and Good Night along with a card from Smith congratulating the new parents. Both books were written by Smith and Mike Nawrocki, co-creator of VeggieTales and voice of Larry the Cucumber. Where possible, photos of the new parents with their gifts will be shared on the stage's video screens during their city's "Michael W. Smith Christmas" tour event.
Smith will also be offering the Nurturing Steps books for sale at venues surrounding his popular Christmas tour. With multiple sellout crowds expected, the 18-city tour launched Nov. 28 in Dallas and will travel to major markets across the U.S. All the latest tour dates, including ticket information, can be found at http://michaelwsmith.com/tour/.
Let's Get Ready for Bed takes children on a journey through Sleepy Puppy's bedtime routine. And when Sleepy Puppy turns out to be not-so-sleepy after all, his friends Eddie the bear and Lamby the sheep know just what to do to help him drift off to dreamland. Along with read-aloud rhymes and a cover that sparkles with glitter, Let's Get Ready for Bed also includes an exclusive link to a lullaby by Smith. The song is meant to further help lull young children to sleep.
In Nighty Night and Good Night, members of the Nighty Night band are further called upon to help their friend, Ben, as he tries to fall asleep. After bedtime prayers and some going-to-sleep rituals are done, a lullaby sung by the band of animals including Bear, Sleepy Puppy and Lamby finally does the trick.
In time for the holidays, Nurturing Steps also offers the Nighty Night and Good Night Gift Set that is available now at retailers everywhere. The set includes the bedtime book Nighty Night and Good Night, a CD of lullabies by Smith appropriately entitled Lullaby, and a plush rattle shaped like Lamby the sheep.
"One of the greatest joys of my life is being a parent and a grandparent," says Smith, the father of five, who is called "G-Daddy" by his 14 grandkids. "I want to serve the next generation well. That's why I created Nurturing Steps, to provide stories and songs that will help shape the faith of our newest generation."
"I have wonderful memories of reading, singing and praying with my children before bed," says Nawrocki. "It can be a sacred time with our little ones, and I'm thrilled to be able to partner with Michael to create stories that parents and grandparents can use to help pass important values on to their children and grandchildren."
For all the latest Nurturing Steps news, go to http://www.nurturingsteps.com. To connect with Michael W. Smith, go to http://www.michaelwsmith.com, Twitter, Facebook, YouTube and Instagram.
About Michael W. Smith:
Michael has been releasing new music regularly and performing around the world to sold-out crowds for the last 30+ years. During his storied career, he's written 32 No. 1 singles, been honored with three Grammy Awards and 45 Dove Awards, was inducted into the Gospel Music Hall of Fame and has sold more than 15 million albums. His most recent USA Today, Yahoo! Music and Billboard-acclaimed studio album A Million Lights and Parade, Good Morning America-featured live worship album Surrounded have together become his 30th and 31st Top 10 hits on Billboard's Top Christian Albums chart, more than any other solo artist in history. He's also given back to the global community. Michael has raised funds to battle AIDS in Africa; started Rocketown, a safe haven for young people in Tennessee to meet and find hope; and has helped more than 70,000 children through Compassion International. He has also written several best-selling books, including Old Enough To Know and Friends Are Friends Forever. He and his wife, Debbie, have five children and live in Nashville.
About Mike Nawrocki:
Mike Nawrocki is co-creator of the popular series VeggieTales. Acting as the voice of Larry the Cucumber and several other VeggieTales characters, he also wrote and directed dozens of episodes including the brand's two feature films: Jonah and The Pirates Who Don't Do Anything. He further created, wrote and directed most of the popular "Silly Songs with Larry" segments, including fan favorites "His Cheeseburger" and "The Hairbrush Song." In addition, he has authored many VeggieTales books and CD projects and is currently focused on developing new children's properties centered around fun characters, engaging storytelling and wholesome values. Nawrocki resides in Franklin, TN with his wife and two children.
About Zonderkidz:
Zonderkidz™, the children's division of Zondervan, inspires young lives through imagination and innovation. As the leader in Christian children's communications, it creates products that awaken the hearts and touch the souls of kids under 14. Zonderkidz is also publisher of the NIrV (New International Reader's Version) Bible translation, the third grade reading level edition of the NIV. For additional information, please visit http://www.zondervan.com.