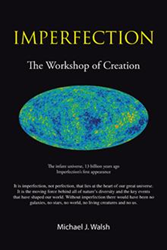 "This book goes much deeper. It treats imperfection as a cosmic phenomenon with influence across the physical world, the living world and the world of man."
DÚN LAOGHAIRE, Ireland (PRWEB) October 08, 2014
Author Michael J. Walsh takes an objective and non-polemic look at how the world was created in his new book, "Imperfection: The Workshop of Creation" (published by AuthorHouse UK).
Through research and study, Walsh noticed two conflicting worldviews: one saw a world based on order, purpose and certainty – a perfection seeking world – while the other showed a world based on randomness, uncertainty and accident – an imperfection-ruled world. In "Imperfection," he explores the roles played by both perfection and imperfection in human affairs and in the formation of the universe.
"Was creation based on concepts of perfection or imperfection?" Walsh asks. "Was there purpose or just randomness? Was there design or just accident? I feel we are at a crossroads. The old certainties of the Age of Perfection are disappearing and the uncertainties of the Age of Imperfection are taking their place."
Walsh tackles the weighty subjects in an easy, engaging style, assuming no previous scientific of philosophic knowledge on the part of the reader. He brings together concepts from science, art, philosophy and religion into a single, coherent framework, concluding that all have imperfection as their hidden, driving force.
"Quite a number of books are available which deal with imperfection at the personal level – how to deal with feelings of imperfection in our personal lives," Walsh says. "This book goes much deeper. It treats imperfection as a cosmic phenomenon with influence across the physical world, the living world and the world of man."
"Imperfection"
By Michael J. Walsh, B.E., Ph.D.
Hardcover | 6 x 9 in | 198 pages | ISBN 9781496985132
Softcover | 6 x 9 in | 198 pages | ISBN 97814696985125
E-Book | 198 pages | ISBN 9781496985149
Available at Amazon and Barnes & Noble
About the Author
Michael J. Walsh is an engineer and mathematician, born in County Meath in Ireland. He has an engineering degree from University College Dublin and a doctorate in systems theory from Trinity College Dublin. He has specialized in the design and management of large-scale computer and information systems in Europe, the U.S. and Africa.
AuthorHouse UK Ltd., an Author Solutions, LLC self-publishing imprint, is a leading provider of self-publishing, marketing, and bookselling services dedicated to serving authors throughout the United Kingdom. AuthorHouse UK is committed to providing authors the best self-publishing experience through a wide array of products and services designed to help individual authors realise their unique creative vision. AuthorHouse UK assigns each author a personal publishing, marketing, and book consultant to provide professional guidance throughout the self-publishing process. To date, AuthorHouse UK has released more than 6,500 titles. For more information or to begin publishing a book today, visit authorhouse.co.uk or call 0800 1974150 or follow @AuthorHouseUK on Twitter for our latest news and updates
###