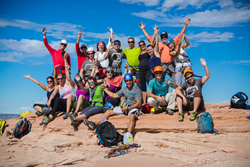 Lexington, KY (PRWEB) August 11, 2017
The Prather Team of Keller Williams is proudly providing financial support and helping raise funds and awareness for First Descents, a non-profit organization which offers young adult cancer fighters and survivors (ages 18-39) a free outdoor adventure experience designed to empower them to climb, paddle and surf beyond their diagnosis. First Descents helps these young adults defy their cancer, reclaim their lives and connect with others doing the same, with activities such as whitewater kayaking, surfing, biking and rock climbing.
"We provide financial support to this organization so they can continue to serve young adults impacted by cancer," said Realtor Michael Prather, co-owner of The Prather Team. "In addition, we are helping spread the word about First Descents by sharing information about their fundraising efforts and their mission."
One such First Descents fundraiser takes place on Saturday, August 26, from 6-10 p.m. at the Lyric Theatre DeWeese Community Room in Lexington, KY, 300 East Third Street. The First Descents: Out Living It fundraiser will feature live music by Lylak, and there will also be a buffet dinner, drinks and both live and silent auctions. The event will be hosted by Zak Warnick and Jennifer Jackson, both cancer survivors and First Descents alumni. The goal is to raise $40,000 to send 26 young adult cancer survivors on a life-changing adventure.
Tickets are $25 in advance and $30 at the door. Tickets can be purchased at the Lyric Ticket Office or online at https://lexingtonlyric.tix.com. To donate directly to First Descents, please visit http://firstdescents.org/get-involved/donate/.
About Michael Prather, The Prather Team, Keller Williams
Michael Prather works with buyers and sellers in Georgetown, Lexington, Midway, Nicholasville, Paris, Richmond, Versailles and Winchester, KY. The Prather Team believes that its team doesn't stop with its team members, as its clients, allied businesses and members of the community are all part of the team. For more information, please call (859) 983-2732, or visit http://www.pratherteam.com.
About the NALA™
The NALA offers small and medium-sized businesses effective ways to reach customers through new media. As a single-agency source, the NALA helps businesses flourish in their local community. The NALA's mission is to promote a business' relevant and newsworthy events and achievements, both online and through traditional media. The information and content in this article are not in conjunction with the views of the NALA. For media inquiries, please call 805.650.6121, ext. 361.