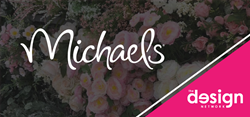 JAMESTOWN, N.C. (PRWEB) August 25, 2020
Today, the Design Network announces a new partnership with Michaels Stores that will highlight North America's leading arts and crafts brand in OTT this fall and winter. TDN and Michaels are joining forces to produce two dynamic branded series: Commissioned, a five-part anthology which tells the story of creating original fine art for the home, and Sleighed, a joy-bursting holiday craft competition show that comes with good tidings and hangs stockings with care.
"Michaels is absolutely iconic to the makers space," said TDN President Katlyn Wilson. "We are ecstatic to marry its hallmark brand with TDN's creative vision for streaming content – a partnership that delivers cheer and seasonal joy to viewers' screens in a time when we need it most."
The premiere of each series is significant to important initiatives for Michaels, outfitting both artists and holiday shoppers. With fine art in focus, each episode of Commissioned unveils the detailed and unique process of one artist's creative journey – from resin pour to spray paint, each will bring an original piece of artwork to completion. Meanwhile, the holiday season kicks off as Sleighed pits competitors head to head in a jingle ball showdown, highlighting dozens of ho-ho-holiday home creations from glistening gingerbread tabletops to abundantly trimmed trees. Each episode of Sleighed is hosted by the gregarious and delightful Sharzad Kiadeh.
"This is an exciting opportunity for us to collaborate with The Design Network on the development of programming truly centered around creativity," said Ron Stoupa, Michaels Senior Vice President of Marketing. The holidays are a magical time, especially at Michaels, and we look forward to sharing seasonal inspirations, tips, tricks, project ideas and more with The Design Network community."
Commissioned premieres Saturday, September 19th at 8pm Eastern, where Sleighed inaugurates the most wonderful time of the year on Thursday, November 5th at 9pm Eastern.
ABOUT THE DESIGN NETWORK
The Design Network is a first-of-its-kind OTT network, created for the new Connected TV era, delivering a different and unique perspective on all areas of the home. From organization to entertaining, TDN series are produced with a new generation of homeowners in mind – focusing on style, how-to, and an education in design choices beyond just the before and after.
TDN is streaming 24/7 for free on Samsung TV+, The Roku Channel, Xumo, Vizio Smartcast, Redbox, Rakuten TV and Plex. Stream anytime at TDN.TV