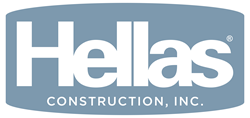 WICHITA, Kan. (PRWEB) July 01, 2020
Michelle Kuhns was named by the Wichita Eagle as one of the Top 50 Most Influential Women in Sports. This list highlights "women who are making a difference in their communities right now."
Kuhns spent more than two decades as Athletic Director at Wichita South High School. There she helped mold countless young lives and ensured access to athletic programs and facilities for student-athletes.
Kuhns was a member of the Wichita Public Schools Bond Committee in 2008, which allocated more than $350 million in school improvements, including building a synthetic turf field, a running track, and eight tennis courts at each high school in USD259. It was during this process that Ms. Kuhns initially became acquainted with the sports construction specialty firm, Hellas Construction, which performed the athletic facility upgrades. This project showed Kuhns both the impact athletic facilities have and the caliber of Hellas' work.
More than five years ago, Michelle Kuhns transitioned from education to Hellas Construction as a Business Development Manager. She was eventually promoted to the position of Regional Vice President. Under Michelle's leadership, Hellas Construction has transformed communities across the Central Region.
With Hellas, Kuhns has helped improve athletic facilities, expanding access to high quality athletic facilities at many Wichita-area schools, including Andover Central Stadium, Derby Stadium, Goddard Public Schools, Valley Center Public Schools and Wichita Public Schools.
"It is extremely gratifying to be recognized on this list with such an admirable group of women. Throughout my tenure as an Athletic Director in the Wichita Public Schools, it was a goal to make a difference in the lives of kids. At Hellas Construction I have the opportunity to continue that mission with a wider footprint," said Kuhns.
Headquartered in Austin, TX, Hellas takes a turn-key approach to athletic facilities. Hellas owns and operates its own construction and installation equipment using its own crews. The firm also manufactures its own synthetic turf, track and court surfacing materials at three factories in the United States. These investments allow Hellas to meet the timing, budget, and quality demands of its clients without reliance upon third parties. With a full operational hub in Wichita, Hellas is well-positioned to serve Kansas and the Central Region as a whole.
Hellas Construction, Inc. headquartered in Austin, TX, is the largest vertically integrated sports construction contractor in the United States, specializing in the general construction of sports facilities and sports surfaces. Hellas champions innovative artificial turf manufacturing, base construction, field, track and tennis planning, along with installation and maintenance. Hellas products are protected by one or more of the following patents: 6,800,339; 7,838,096; 7,249,913; 7,364,634. hellasconstruction.com
Media Contact: Jeff Power
Hellas Construction Content Writer
(512) 297-5708
jpower@hellasconstruction.com