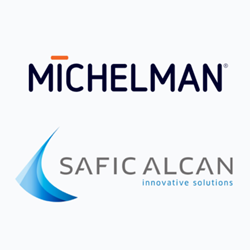 We are happy to have been selected by Michelman for distributing their products on these high potential markets because Michelman is a key player in the coatings and specialty chemicals industry
CINCINNATI (PRWEB) January 07, 2019
Effective January 1, 2019, Michelman is pleased to extend its distribution agreement with Safic-Alcan, an international specialty chemicals distributor, to Central Europe, Poland, and Turkey. Capitalizing on the success that Safic-Alcan has had in France and the United Kingdom distributing their broad range of coating additives, surface modifiers, and paper & packaging coating solutions, Michelman will now have them manage their distribution throughout Safic-Alcan subsidiaries located in Poland, Czech Republic, Hungary, Serbia and Turkey.
"We are happy to have been selected by Michelman for distributing their products on these high potential markets because Michelman is a key player in the coatings and specialty chemicals industry," stated Philippe Combette, CEO of Safic-Alcan. "Michelman's product portfolio will offer our customers a variety of performance properties as well as opportunities in formulating, designing and processing innovative and sustainable products."
"Safic-Alcan is well known for its high quality of service and strong technical support and we are excited to extend our partnership to include the Central European market and Turkey. This initiative will enable us to enhance our presence in this region" added Paul Griffith, Chief Marketing Officer, VP & Managing Director EMEA, Michelman International SARL.
Michelman will co-exhibit with Safic-Alcan at the European Coatings Show 2019 in Nuremberg, Germany, March 19 - 21, 2019. Visit both companies in Hall 7, Stand 7-423.
About SAFIC-ALCAN
SAFIC-ALCAN is a French independent distributor of specialty chemicals headquartered in Paris-La Défense (France). The Company develops and provides wide ranges of polymers, materials and additives for the rubber, coatings, pharmaceuticals and cosmetics industries. The Group is present in all major countries of the European Union, as well as in Turkey, and China with on-going strategic development in Eastern Europe, the USA and Mexico. In 2017, Safic-Alcan posted sales revenues of 565 M€.
Visit us: http://www.safic-alcan.com/
About Michelman
Michelman is a global developer and manufacturer of environmentally friendly advanced materials for industry, offering solutions for the coatings, printing & packaging and industrial manufacturing markets. The company's surface additives and polymeric binders are used by leading manufacturers around the world to enhance performance attributes and add value in applications including wood and floor care products, metal and industrial coatings, paints, varnishes, inks, fibers and composites. Michelman is also well-known as an innovator in the development of barrier and functional coatings, as well as digital printing press primers that are used in the production of consumer and industrial packaging and paper products, labels, and commercially printed materials. Michelman serves its customers with production facilities in North America, Europe and Asia, product development and technical service centers in several major global markets, and a worldwide team of highly trained business development personnel.