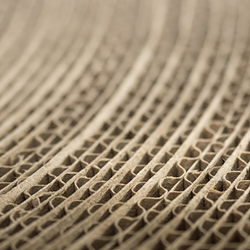 The beds, 100% recyclable and incredibly lightweight, are easily lifted by a single person, but still very strong and durable, and able to support over 200 kg.
CINCINNATI, Ohio (PRWEB) September 01, 2020
Michelman's HydraBan® is a brand of water-based coatings designed for use on paper and paperboard. It provides water repellency, excellent gluability, printability, and is available for food contact applications. HydraBan also offers two properties critical to designers and converters of packaging for perishables and building products – water-resistance and release – without sacrificing recyclability.
HydraBan is repulpable and PFAS-free. It helps meet light-weighting initiatives as an alternative to wax, PE extrusion coating, and film lamination techniques. Additionally, it offers improved water barrier properties for perishable and frozen foods like seafood, fruits, and ice cream to converters of paper plates, cups, and food packaging. HydraBan penetrates the paper, giving a wax impregnated look to the finished sheet without sacrificing recyclability.
A recent and essential non-food application of HydraBan is for corrugate-based beds intended for use by hospitals and COVID-19 quarantine centers. Because of its water-resistant properties, HydraBan was used to enhance the performance of lightweight beds created by Indian-based Aryan Paper Group, who have taken an active role in India's COVID-19 response. The beds can be used as emergency hospital beds or to house workers at manufacturing sites.
According to Param Gandhi, Business Development Director for Aryan Paper Group, "COVID-19 has created an urgent need for beds to house those who are quarantined or under treatment. Also, as manufacturing sites crawl back to operations, there is a demand for housing the workers on site. We designed these beds, knowing that the inclusion of HydraBan makes them water-resistant to withstand mopping and disinfecting for repeated use."
The beds, 100% recyclable and incredibly lightweight, are easily lifted by a single person, but still very strong and durable, and able to support over 200 kg. The 6.5 ft. x 3 ft. x 3 ft. beds ship flat and assemble in minutes without any tools, screws, or glue.
Adds Shailesh Nema, Michelman India's Vice President & Managing Director, "Michelman has been opening new markets for paper packaging ever since creating its first repulpable water-based coating decades ago. Paperboard treated with Michelman water-based coatings provides good barrier properties and is often the best combination for environmentally friendly packaging or other innovative structures such as these beds. We salute Aryan Paper Group for their innovation and quick response to this pandemic sweeping across the globe."
About Michelman
Michelman is a global developer and manufacturer of environmentally friendly advanced materials for industry, offering solutions for the coatings, printing & packaging, and fibers & composites markets. The company's surface additives and polymeric binders are used by leading manufacturers around the world to enhance performance attributes and add value in applications including wood and floor care products, metal and industrial coatings, paints, varnishes, inks, fibers, and composites. Michelman is also well-known as an innovator in the development of barrier and functional coatings, as well as digital printing press primers used in the production of consumer and industrial packaging and paper products, labels, and commercially printed materials. Michelman serves its customers with production facilities in North America, Europe and Asia, product development and technical service centers in several major global markets, and a worldwide team of highly trained business development personnel.
About Aryan Paper Group
The Aryan Paper Group, established in 1956, provides both recycled Kraft paper and paper packaging solutions. The company has recently expanded its capabilities with an integrated paper recycling mill, and state-of-art technology and machinery for more efficient manufacturing of paper board and paper cartons. Additionally, it serves the automotive, textiles, pharmaceutical, chemicals, horticulture, and packaging industries in India, and is committed to responsible leadership with equal attention to ecology, economy, education, entrepreneurship, and excellence.