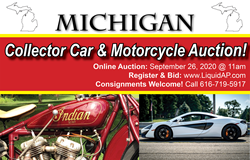 "Unlike most collector auctions, we created a no risk, low cost selling option that gives high end collector vehicles national and global exposure," said Bill Melvin, CEO of Liquid Asset Partners. "As a local sale, it saves sellers costs to deliver and list their items compared to going Monterey."
GRAND RAPIDS, Mich. (PRWEB) August 26, 2020
Liquid Asset Partners of Grand Rapids, Michigan, will be hosting its first annual Michigan Collector Car & Motorcycle online auction in September. The auction features Indian, Vincent and Honda motorcycles, an original 1966 Corvette C2, Ferrari Testarossa, an original 1969 Porsche 911E, McLaren 570s, and original memorabilia owned by actor Steve McQueen. The event is a first of its kind for West Michigan and provides residents an easy option to test the market for selling their collector cars or motorcycles.
The online auction is being held on September 26, 2020 and lots begin ending at 11:00AM EST with an in-person preview scheduled for September 23 – September 25 from 9:00AM – 4:00PM by appointment. Local and global bidders are welcome, and the auction is open to the public. Those looking to register to bid can visit LiquidAP.com for more information. Liquid Asset Partners is now accepting consignment cars & motorcycles for this auction.
Liquid Asset Partners will be welcoming other consignments of quality motorcycles, cars, or memorabilia. Please call 616-719-5917 for consignment information.
About Liquid Asset Partners:
Since 1974, Liquid Asset Partners, based in Grand Rapids, MI, is an acquisition and disposition leader in motorsports, retail and wholesale industries across North America. Liquid Asset Partners specializes in creative ways to assist companies in unlocking value from underperforming assets. Some notable projects include Assets of John Parham's (owner of National Motorcycle Museum), Skip Barber Racing School, Erik Buell Racing (motorcycles), BarcLounger, Circuit City, the Indian Motorcycle Company, and more.
For more information, visit http://www.LiquidAP.com or call (616) 719-5917.