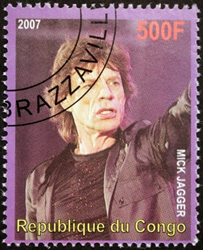 Even though Jagger would have wanted privacy in this very delicate moment, he simply could not get it because of the very public nature of wills.
Boston, MA (PRWEB) December 11, 2014
It has not been an easy year for the legendary rock 'n' roll band the Rolling Stones. Earlier this year, the celebrity media landscape was rocked by the tragic death of the beautiful and talented fashion designer L'Wren Scott, who took her own life at the age of 49. For many years, the late Scott was known as the emotionally troubled lover of Mick Jagger, lead singer of the Rolling Stones (1).
More than eight months have passed since Jagger was notified of Scott's suicide; he was on tour with the Rolling Stones in Australia at the time (2). As many people would have expected, Jagger was devastated by the news reports from New York City. Even though Jagger and Scott never married and did not have children, the late fashion designer left a will indicating that she wished to leave everything she owned to her dearly beloved musician (1). That will was quickly entered into probate court, and the tabloid media quickly highlighted the fact that Scott was living her millionaire lover a handsome estate worth about $9 million.
In the weeks after Scott's sad demise, Rocco Beatrice of UltraTrust.com commented on the probate proceedings and the lack of privacy that a will offers to families and loved ones. Mr. Beatrice is the Managing Director of Estate Street Partners, LLC, a financial planning firm that specializes in asset protection, wealth management and estate planning:
"Our office staff remembers the news about L'Wren Scott and how Mick Jagger reacted," explained Mr, Beatrice. "Here we had a heartbreaking situation that involved two very public figures and a tumultuous love affair. Scott left Mick Jagger, whose net worth is estimated at about $300 million, another nine million dollars. We learned about this because the will was entered into New York Surrogate's Court, which is a public legal venue. We also learned that Scott was estranged from some of her relatives, and that her will ran the risk of being invalidated because she had crossed out a single word. Regardless, we learned that Scott was deeply in love and also deeply troubled with regard to her emotional state."
Mr. Beatrice continues: "Even though Jagger would have wanted privacy in this very delicate moment, he simply could not get it because of the very public nature of wills. We advise our clients on this issue when we recommend the UltraTrust.com® to them: Irrevocable trusts guarantee privacy and prevent the leaking of sensitive information. This is very important insofar as keeping financial information private. Just imagine everyone finding exactly how much money your children will get after you pass away. This could turn into a risky situation that could be avoided with an UltraTrust.com®."
Scott's suicide would bring even more turmoil and privacy invasions to the Rolling Stones in November. According to financial news magazine Forbes, Jagger and his band mates filed a claim with various insurance companies in the United Kingdom that provided them with a special policy in case of concert cancellations (3). According to the BBC, the dispute between the Rolling Stones and their insurers involved $12.7 million in claims concerning the postponement of concerts in Australia and New Zealand after Scott passed away (4).
It so happens that court records kept in London, which is generally thought to be a more private jurisdiction when compared to the United States, were leaked to the media (3). As a result of this unexpected disclosure of records, we now know that Jagger was overpowered with grief that caused him to suffer from post-traumatic stress disorder after the death of his lover. The Rolling Stones cancelled part of their tour since their policies insured them against concert cancellations in certain events such as the death of their loved ones. However, the insurers were not willing to settle the claims without opposition, and they claimed that Scott's emotional state that led her to commit suicide would set off a certain policy exclusion and thus render the claims invalid (4).
The Rolling Stones now claim that the insurance companies went too far in their investigation surrounding the claims. The insurers wanted to unveil private electronic correspondence, archived social media updates, medical records, and more (2). Could an irrevocable trust have avoided such invasion of privacy?
Mr. Beatrice responds: "Scott could have kept details about her estate and her finances private had she used a legal instrument such as the UltraTrust.com® for estate planning, but this would not have helped the Rolling Stones too much with regard to keeping their insurance companies from making their information publicly available. They could have withdrawn their claims, but that would have been an extreme measure. It is unfortunate that this happened, and perhaps the insurers need to review their information disclosure policies to see if they could have sealed that information in court."
About Estate Street Partners (UltraTrust.com):
For 30 years, Estate Street Partners has been helping clients protect assets from divorce and frivolous lawsuits while eliminating estate taxes and probate as well as ensuring superior Medicaid asset protection for both parents and children with their Premium UltraTrust® Irrevocable Trust. Call (888) 938-5872 to learn more.
#
1. The Telegraph UK, March 26, 2014 (telegraph.co.uk/news/celebritynews/10725841/LWren-Scott-leaves-entire-9-million-estate-to-Sir-Mick-Jagger.html)
2. The Telegraph UK, November 12, 2014 (telegraph.co.uk/news/worldnews/northamerica/usa/11227263/Mick-Jagger-criticised-by-family-of-LWren-Scott-for-claiming-on-insurance-over-her-suicide.html)
3. Forbes, November 17, 2014 (forbes.com/sites/trialandheirs/2014/11/17/mick-jagger-cant-get-no-satisfaction-settles-ugly-lawsuit/)
4. BBC News, November 14, 2014 (bbc.com/news/entertainment-arts-30053461)