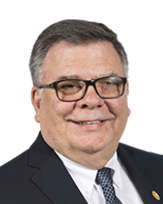 I am on board with our mission to educate members about the MRFC and how it can benefit the financial consultant in their practice...Mickey Jordan, re-elected MRFC Board Member
MIDDLETOWN, Ohio (PRWEB) May 23, 2019
The mission of the MCB is to provide an ongoing benefit to the general public by granting and recertifying the MRFC Credential, upholding it as a standard of excellence for ethical, valued, competent, and client-focused financial consultants.
The MCB operates independently from the International Association of Registered Financial Consultants (IARFC®) to establish and uphold high standards of competence for the MRFC and its Credential holders. "I look forward to returning to the MRFC Board and working with my esteemed colleagues in furthering the Credential," stated Jordan. "I am on board with our mission to educate members about the MRFC and how it can benefit the financial consultant in their practice."
It has been a little over a year since the MRFC was awarded its accredited status by the National Commission of Certifying Agencies (NCCA). "Mickey has worked with us this past year helping to manage the MRFC Certification Program," related MRFC Board Chair Barry Dayley, "I am pleased that he will be continuing on in the capacity of Board Director. His team effort approach enhances the effectiveness of our program and is valuable in problem solving."
As the MRFC Certification Program moves into its second year, the focus will be on reaching out to qualified consultants to take the exam. A series of webinars are scheduled in June, July and August that explain the program and support individuals who are interested in applying for the Credential. "We are hoping these informational webinars will educate financial professionals on the benefits of the MRFC and motivate individuals to apply," explained Dayley. "My co-presenter MRFC Vice Chair Dr. Craig Lemoine and I welcome anyone who meets the requirements to join us as we explore the benefits of being a Master Registered Financial Consultant."
For more information on the MRFC Credential and to apply to take the exam, visit the MRFC section of the IARFC Website.
--
The International Association of Registered Financial Consultants (IARFC®) is the parent company of the MRFC Certification Program. Founded in 1984, the IARFC's mission is to recognize world class financial consultants and empower them to make a transformational difference in the financial lives of the families and communities they serve.