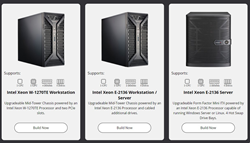 Visiting one of our nationwide locations affords business customers the experience and expertise of our dedicated staff at their disposal.
HILLIARD, Ohio (PRWEB) November 08, 2021
Micro Center (microcenter.com), one of the largest computer and consumer electronics retailers in the United States, has expanded its product selection for excelling small business solutions. Micro Center offers high-performance products such as workstations and servers to keep business customers productive. In addition, a select number of stores allow business customers to build their workstations or servers from minimally configured systems or upgrade with enterprise-ready components.
Small businesses have redefined the need for computing power. This is evident with the "creator economy." A decade ago, this audience was not as prevalent as it is today. In 2006, former Wired editor Chris Anderson foretold in his book 'The Long Tail,' "when the tools of production are available to everyone, everyone becomes a producer." The creator economy includes industries such as gaming, finance, medical & scientific, media & entertainment, engineering & architecture, data science & AI professionals.
To assist these business customers, Micro Center provides an easy-to-use online service for sourcing computing needs. It features pre-configured workstations from Dell, Supermicro, and HP. In addition, we carry powerful machines using the latest graphics cards from NVIDIA and AMD plus fast computing power using the latest Intel Xeon or AMD Ryzen, Threadripper, and Epyc processors.
"Our online business solutions center offers a growing selection of systems and components an enterprise would need regarding next-level computing power," said Warren Beneson, Chief Merchandising Officer of Micro Center. "Not only do we carry powerful machines from Dell, Supermicro, and HP, but an array of components to support building workstations or servers. These components consist of graphics cards, processors, and hard drives. In addition, no system is complete without an array of peripherals such as monitors, inputs, networking components, and software. Visiting one of our nationwide locations affords business customers the experience and expertise of our dedicated staff at their disposal."
Micro Center's Commitment To Enterprise Computing
With Micro Center's wide variety of products and expert team, business customers will have no problem finding or building the perfect machine.
Media & Entertainment
Content creation has infinite possibilities and should not be limited by the creation machine. Professionals will be assured they can edit ultra-high-definition video, like 4k, 8K, and beyond.
Engineering & Architecture
Experience more productivity with less time wasted on rendering. High-end machines are perfect for running the most resource-intensive programs or hosting programs for use by multiple users.
Data Science & AI
There are many benefits to working with next-gen ultra-fast NVMe storage. And the latest processors will allow professionals to work with large data sets or complex calculations efficiently.
Product Selection
The Micro Center Workstation and Server product line will allow business customers to tackle anything from fluid video and 3D rendering to crunching large datasets with ease or churning through massive scientific calculations. Our lineup includes Dell, Lenovo, HP, and Supermicro, providing an excellent range of selections and balancing between performance, graphics power, and memory capacity to quickly help businesses tackle any project.
Micro Center carries pre-configured workstations and servers from every major partner in the United States in multiple configurations to meet the demanding processing needs of our customers. We have both Intel Xeon-W and AMD Threadripper Pro WX-based workstations plus Intel Xeon-E and AMD EPYC processors for our server line. Pre-configured workstations can be found here.
Our most recent product launch includes minimally configured systems for both Workstations and Servers from our partner, Supermicro. Initially, these systems start as fully configured base systems. We have all the components to custom configure these systems to meet business needs, including; hard drives, memory, graphics cards, network cards, monitors, keyboards, and mice can all be added. However, they do not include an Operating System (OS.) This offers the flexibility to add Windows Server Standard, Windows Server Essentials, Client Access Licenses, Windows 10 Pro, or Windows 11 Pro acquired through our system builder OS offering. Additionally, customers can install their own OS from Linux or other licensed product solutions.
Our enterprise Supermicro workstation features a lightning-fast Intel Xeon 6312U 2.4GHz core processor, 128GB DDR4-3200 RAM, 1TB M.2 NVMe solid-state drive plus 6TB hard drive, and a Zotac GeForce RTX 3090 Trinity OC 24GB graphics card. Please note: this system is available only in twelve stores located in the following cities; Columbus, Houston, Tustin, Denver, Duluth, Westmont, Cambridge, Madison Heights, St Louis Park, Brentwood, Dallas, and Fairfax. Check the availability of this workstation here.
About Micro Center
Micro Center operates twenty-five large computer and consumer electronics stores in major markets nationwide. Founded in 1979 in Columbus, Micro Center is designed to satisfy the dedicated computer and consumer electronics user. Uniquely focused on computers and related products, Micro Center offers more computers and related items (more than 30,000 items in stock) than any other retailer. Micro Center is passionate about offering a high level of customer service and pioneered 18-minute in-store pickup for online orders starting in 2009. Consumers can visit Micro Center's 25 stores from coast-to-coast or microcenter.com for thousands of computer-related items, electronics, and other technology products.
Micro Center stores are located in:
Atlanta (2), Baltimore, Boston, Chicago (2), Cincinnati, Cleveland, Columbus, Dallas, Denver, Detroit, Houston, Kansas City, Los Angeles, Minneapolis, New York (5), Philadelphia, St. Louis, and Washington, D.C. (2).