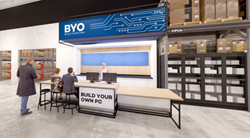 It truly is the Micro Center of the future.
HILLIARD, Ohio (PRWEB) November 08, 2021
Micro Center (microcenter.com), one of the largest computer and consumer electronics retailers in the United States, re-opens its Tustin (California) flagship store inviting tech enthusiasts to visit the newly redesigned store. This fun grand reopening will feature increased square footage, more products, and a brand new high-tech design. In addition, customers can catch live PC builds throughout this week, enter social media contests, and check out the all-new PC case garage with over 100 PC cases.
"Our Tustin location will experience a new modern design that some would marvel at as a Tech Heaven," says Warren Beneson, Chief Merchant of Micro Center. "It's something you have to see and experience. In addition, we will have live PC builds, and they may even run into their favorite PC build influencer at the store. Tustin now has more square footage and more products than ever before. It truly is the Micro Center of the future."
What: Micro Center Tustin grand reopening of its newly redesigned 50,000 square foot store. It will showcase more than 25,000 products, 300 laptops, and 200 monitors. The product line includes computers, computer parts, HDTVs, Apple, Dell, HP products, plus more. In addition, attendees can experience our all-new Tech Bar & PC Case Garage with over 100 cases. Consumers can take advantage of in-store promotions all week long.
When: Monday, November 8, 2021.
Where: Micro Center Tustin, California Computer Store, 1100 E Edinger Ave, Tustin, CA 92780.
Media: A Micro Center representative will be available for media interviews.
For more information contact:
Meg Adrion
madrion@microcenter.com
+1 (614) 850-3227
About Tustin (CA) Micro Center Store
When Micro Center opened this location in November 1993, we brought a new era of technology retailing to Orange County and Los Angeles with our knowledgeable associates, high level of service, and guaranteed in-stock selection of over 25,000 products. As a result, we're proud to offer the Tustin community an unmatched selection of computers, Apple products, software, accessories, and computer parts for building PCs. No store serving Orange County and Los Angeles offers as many computers and computer-related solutions, along with such a high level of customer service and employee expertise as Micro Center.
About Micro Center
Micro Center operates twenty-five large computer and consumer electronics stores in major markets nationwide. Founded in 1979 in Columbus, Micro Center is designed to satisfy the dedicated computer and consumer electronics user. Uniquely focused on computers and related products, Micro Center offers more computers and related items (more than 25,000 items in stock) than any other retailer. Micro Center is passionate about offering a high level of customer service and pioneered 18-minute in-store pickup for online orders starting in 2009. Consumers can visit Micro Center's 25 stores from coast-to-coast, with more to come, or microcenter.com for thousands of computer-related items, electronics, and other technology products.
Micro Center stores are located in:
Atlanta (2), Baltimore, Boston, Chicago (2), Cincinnati, Cleveland, Columbus, Dallas, Denver, Detroit, Houston, Kansas City, Los Angeles, Minneapolis, New York (5), Philadelphia, St. Louis, and Washington, D.C. (2).