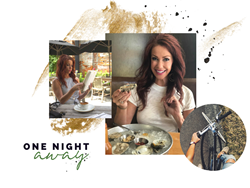 Booking One Night Away makes a statement, explained Cates. "It reflects a woman that has boldly prioritized herself," adding, "it proves she knows the massive value of filling her cup!"
CINCINNATI, Ohio (PRWEB) January 07, 2020
The travel industry's first micro-travel booking site for wellness-minded travelers is pioneering the micro travel movement as it relates to personal renewal and well-being for women. One Night Away, founded by Cincinnati based author and entrepreneur, Jocelyn Cates, answers the growing interest and demand for solo and wellness travel while keeping micro at the forefront to align with the busy lifestyles of modern women.
"Studies show women earn more than ever, maintain the majority of housework, and take the brunt of the tougher, lesser desirable parenting efforts. All while striving to meet the demand of incredibly high standards in every area of life," said Founder, Jocelyn Cates. "It's exhausting and perpetuates the feeling of never achieving enough; which also happens to be the two leading symptoms for women experiencing burnout." Cates continued, "Women do so much; their plates are full. Our mission is to empower women to embrace self-prioritization. To ask for support and make time for themselves. One Night Away serves as the conduit by creating easy-to-book solo trips that fuel personal renewal and fit within the restraints of their busy lives."
Census and industry reports show solo travel to be among the fastest-growing travel categories, driven by lifestyle shifts and social structures. Women specifically are inspired to solo travel primarily for personal reflection, renewal, and to promote self-discovery; per Expedia's first-ever Solo Travel Report (July '19). The report also indicated the driving factor for the vast majority of respondents was the desire "to get away" and disconnect from work and the demands of everyday life pressures. These modern, maxed-out lifestyles have led to the emergence of micro travel (also: micro-cation or momcation) as a leading travel trend. The 2019 Vacation Confidence Index* by Allianz Global Assistance revealed micro trips grew by an average of 67% among all age groups.
While wellness-oriented aspects are becoming more intertwined with tourism in general, wellness travel has long been primarily rooted in luxury segments and statistically longer in duration. Custom travel experiences that marry women's wellness with brevity have been scarce if offered at all.
One Night Away has uniquely combined solo, wellness, and micro travel. The company's trip packages offered in cities nationwide range from one night/two full days to three nights/four full days. Travelers are guided by a trip plan detailing their personalized experience. Activities, experiences, hot spots, and dining recommendations are custom-tailored to the individual based on answers given on the company's XQ (experience questionnaire) completed upon booking.
One Night Away's proprietary Rx for Renewal is a self-care strategy that seamlessly weaves prompts and guided practices into each day's plan via digital content and/or printed materials provided. The "prescribed" guidance is also derived from the completed XQ and is designed to support the traveler during their time away and beyond. Travelers may be encouraged with any variety or combination of affirmations, introspection prompts, guided mindfulness, meditation, relaxation, self-care or visualization type exercises.
Accommodations are secured exclusively with vetted, premium boutique hotels. Travelers receive their travel bag checklist, trip tips, and insights within a member portal/dashboard 7 days before the trip. The custom trip plan and Rx for Renewal are revealed via email and within the member portal 36 hours before the start of the trip and can be easily accessed online and in-app on any device. Pricing ranges from around $500 to $2000+ depending on destination, package, and inclusions. Package prices do not include mode of transportation due to wide-variances of micro travel styles (i.e extended business trip, road trip, staycation, airline preferences, etc.).
Booking One Night Away makes a statement, explained Cates. "It reflects a woman that has boldly prioritized herself," adding, "it proves she knows the massive value of filling her cup!"
About the company: One Night Away features city destinations nationwide and custom destination requests are accepted. The company is founded by Jocelyn Cates, Cincinnati based entrepreneur and author of self-care focused book, Easy Now, a #1 bestseller in women's health, meditation, and spiritual healing on Amazon. The company partners with local travel hosts & experts, tourism ambassadors, and local business owners to support sustainable local tourism and to provide diverse, immersive travel experiences in domestic destinations. To learn more about How it Works visit: https://www.onenightaway.com/how-it-works  or visit the company website at http://www.onenightaway.com