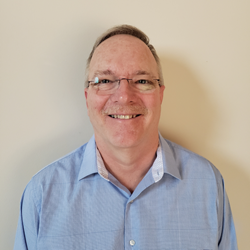 I'm excited for the opportunity to bring this new approach to the industry leaders of the Northeast. There's truly nothing like it on the wastewater treatment market and I can't wait to see the new business opportunities Biotifx® brings my future clients.
FRANKLIN, Wis. (PRWEB) February 20, 2020
Microbial Discovery Group LLC (MDG) is pleased to announce the addition of Russell Simpkins as their newest Account Manager for the Wastewater Treatment industry. Russell will focus on servicing new MDG partners with our Biotifx® platform, a complete solution that includes top-of-the-line bioaugmentation products, step-by-step treatment programs, and in-field technical support.
Russell brings over 30 years of sales experience at companies such as Ingredion Incorporated and American Water, where he was responsible for specialty chemical sales for the pulp and paper sector of the wastewater treatment industry.
"Over the past few years, our focus has been on revolutionizing wastewater treatment with the use of bioaugmentation. Our Biotifx® platform combines high value bioaugmentation products, tools, and services that have shown time and again to add significant value to common industry challenges. We're happy to welcome Russell to our growing team and to further expand our business into the Northeast. There are endless opportunities, and we're proud to have such a dedicated sales professional representing MDG" added Dan Romanek, National Sales Manager.
When asked what he was most looking forward to, Russel explained, "Anyone who hears about the complete solution offered by MDG knows it's truly unique. I'm excited for the opportunity to bring this new approach to the industry leaders of the Northeast. There's truly nothing like it on the market and I can't wait to see the new business opportunities Biotifx® brings my future clients."