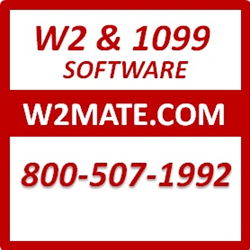 Call 1-800-507-1992 to learn more about W2 Mate software .
Chicago, IL (PRWEB) January 06, 2015
W2 Mate® software (http://www.W2-Mate.com / 1-800-507-1992) recently released the 2014 1099 processing module for Microsoft Dynamics product line. W2 Mate® gives Dynamics users all the tools they need to process 1099 forms in-house this 2015 tax season while saving time, effort and money. W2 Mate supports Microsoft Dynamics AX (formerly Axapta), Microsoft Dynamics GP (formerly Great Plains Software), Microsoft Dynamics NAV (formerly Navision),Microsoft Dynamics SL (formerly Solomon IV) and Microsoft Dynamics C5 (formerly Concorde C5).
W2 Mate 2014 can import data from Dynamics and map it to different types of 1099 forms even those that are not natively supported by Dynamics, this incudes 1099 MISC (Miscellaneous Income), 1099-A (Acquisition or Abandonment of Secured Property), 1099-B (Proceeds From Broker and Barter Exchange Transactions), 1099-C (Cancellation of Debt), 1099 INT (Interest Income), 1099 DIV (Dividends and Distributions), 1099 K (Merchant Card and Third Party Network Payments), 1099 R (Distributions From Pensions, Annuities, Retirement, etc), 1099 S (Proceeds From Real Estate Transactions), 1098 (Mortgage Interest Statement) and 1098 T (Tuition Statement).
A W2 Mate software evaluation can be downloaded from http://www.W2-Mate.com/ . Customers can purchase the software and receive it instantly.
In addition to its Microsoft Dynamics import capabilities, W2 Mate 2014 can import and E-file W2 and 1099 forms for the following QuickBooks versions: QuickBooks Pro., QuickBooks Premier Accountants Edition, QuickBooks Premier Professional Services Edition, QuickBooks Premier Contractor, QuickBooks Premier Nonprofit Edition, QuickBooks Premier Manufacturing & Wholesale and QuickBooks Enterprise Solutions.
Each year, thousands of businesses and accounting firms across the United States trust W2 Mate for high-quality, fast, easy, affordable, and above all reliable 1099 filing. The tax forms generated using W2 Mate are government-approved and comply with SSA publication 1141 (General Rules and Specifications for Substitute Forms W-2 and W-3) and IRS publication 1179 (General Rules and Specifications for Substitute Forms 1096, 1098, 1099, 5498, W-2G, and 1042-S).
W2 Mate software also comes with an add-on utility called the 1099 Emailer which can be purchased on top of W2 Mate in order to automatically batch e-mail tax forms such as W2s and 1099s to employees and recipients. 1099 Emailer is designed to send thousands of emails at the click of a button. For example a company can batch email 1099-MISC forms to contractors and recipients at the end of the year instead of mailing paper forms.
More details about W2 Mate 2014 software are available from http://www.W2-Mate.com/ or by calling 1-800-507-1992 .
W2 Mate Software Highlights:
Prepares unlimited number of 2014 W2 and 1099 forms for multiple employers and payers;
Fills in pre-printed 1099 Copy-A forms and prints other 1099 copies such as recipient and payer copies on plain paper using black ink;
Unlimited 2014 1099 E filing using IRS FIRE System (No per form fees and No data transmission charges)Unlimited 2014 W2 electronic filing submissions using the EFW2 format;
Creates 2014 employee W2's as PDF and recipient (vendor) 1099's as PDF;
SSA approved to print W2 & W3 forms on regular white paper, which eliminates the need for expensive forms ;
Imports data from Intuit QuickBooks (QuickBooks Pro, QuickBooks Enterprise, and QuickBooks Premier), Microsoft Dynamics (GP or SL), Sage Peachtree, Sage DacEasy or CSV/ Excel;
Efficient and intuitive manual W2 / 1099 data entry;
Supports 1099MISC, 1099K, 1099INT, 1099DIV, 1099R, W2, W3, 1096, 1099S, 1098T, 1098, 1099A, 1099B, 1099C, 1099PATR, 1099OID;
Automatically calculates Social Security and Medicare taxes For paper filers 1096 and W3 are automatically generated;
Supports Windows 8, Windows 7, Windows Vista, Windows XP, Windows Server 2003, Windows 2000 or Windows 98;
Roll-over of payer and recipient information from year to year;
Password protection and data validation;
Generates printing labels, form totals and recipient lists;
Prompt, courteous and reliable US-based support through phone, chat or e-mail;
Network ready with affordable pricing for multiple seats;
Exports W2s and 1099s to excel;
Data Backup and restore;
TIN matching and verification including reports for missing TINs and TIN matching errors;
On-premise software solution to be installed on individual computers / workstations;
Prepares 1099s for a contract workers;
Includes deadlines for 1099 mailing ( 1099 filing due dates);
Helps filers meet 1096 and W3 due dates for 2014
A free trial of W2 Mate 2014 can be downloaded from http://www.W2-Mate.com/ . Customers can purchase W2 Mate and receive it instantly.