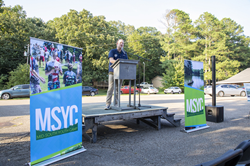 HENDERSON, Tenn. (PRWEB) August 13, 2019
Mid-South Youth Camp, operated by Freed-Hardeman University, is currently engaged in a fund-raising campaign to raise $1.65 million to build a new dining hall on the campgrounds located on Hwy. 45, approximately three miles north of Henderson. At the beginning of July, more than $1 million had been raised.
Mid-South Youth Camp announced its campaign, "A Celebration of God's Abundant Blessings," in late July on the opening day for the final session for this summer's camps.
The new structure will replace the current dining hall, which has served the camp since 1963 when it was purchased and converted from its original purpose—a nightclub and dance hall.
Plans call for the new 8,000 square foot structure to contain a commercial kitchen, dining space for 299, directors' quarters with a Jack and Jill bathroom, nurse's station, conference room for counselors, camp store, restrooms, office and laundry room. Additional storage and expanded parking are also planned. The improvements, particularly the kitchen, will make the facility more attractive to groups seeking a site for retreats when camp is not in session. An outdoor game area, dubbed "Grandma's Porch," which will also serve as a pavilion just for junior campers, will be added at a later date.
Camp is growing, according to directors. Since 2015, attendance has increased by 27 percent. In 2018, campers numbered 1,435. Traditionally, the 77-acre camp has served young people from age nine to 18. However, in 2006, a junior camp for younger children was added. A day camp, it has since served 1,582 children.
Several additional special events are planned for camp in the next few weeks, beginning with the annual fish fry. A reunion of former campers is planned for Sept. 20-22 and a weekend fall camp is planned for Oct. 18-20.
Contributions to the building fund may be made to Mid-South Youth Camp c/o Freed-Hardeman University 158 East Main St. Henderson, TN 38340.