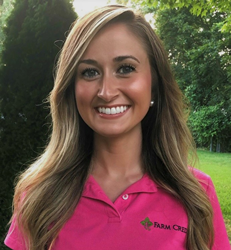 "Michelle has been an instrumental part of our lending team in a supporting role for the past two years," says Jennifer Frock, MidAtlantic Farm Credit Regional Lending Manager. "We are looking forward to her joining the team in her new role, especially with her extensive agriculture background."
WESTMINSTER, Md. (PRWEB) July 28, 2020
MidAtlantic Farm Credit recently announced the hiring of Michelle Bullock as a loan officer. She will be based in the Association's Salisbury, Maryland office.
"Michelle has been an instrumental part of our lending team in a supporting role for the past two years," says Jennifer Frock, MidAtlantic Farm Credit Regional Lending Manager. "We are looking forward to her joining the team in her new role, especially with her extensive agriculture background."
In her role as a loan officer, Bullock will be working with customers to guide them through the various financing options for their specific needs. "I am excited to offer our members consistent and reliable financial services through the good times and the bad," says Bullock. "I plan to establish long lasting relationships within the agricultural industry on the lower shore."
Bullock, a resident of Salisbury, Maryland, grew up on a fourth generation grain and Angus beef cattle farm in Harrington, Delaware. "Growing up on the farm, my passions included raising and showing livestock," adds Bullock. "I also enjoyed being actively involved in the FFA organization and still support my local chapter."
She attended Wilmington University where she earned her bachelor's in business management and her master's in business administration. Bullock started at Farm Credit as an intern in college and worked as a business relationship specialist for the last two years in the Georgetown, Delaware office prior to this role.
To learn more about careers at MidAtlantic Farm Credit and to view our current openings, visit mafc.com/careers.
About MidAtlantic Farm Credit
MidAtlantic Farm Credit is an agricultural lending cooperative owned by its member‐borrowers. It provides farm loans for land, equipment, livestock and production; crop insurance; and rural home mortgages. The co-op has over 11,700 members and over $2.8 billion in loans outstanding. MidAtlantic has branches serving Delaware, Maryland, Pennsylvania, Virginia and West Virginia. It is part of the national Farm Credit System, a network of financial cooperatives established in 1916 to provide a dependable source of credit to farmers and rural America.
###