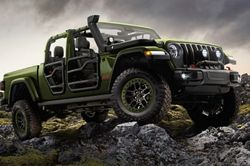 WINDER, Ga. (PRWEB) December 19, 2022
Pickup truck enthusiasts who want to buy a brand new vehicle this year near Winder can purchase the same. The latest 2023 Jeep Gladiator Rubicon is available at the Akins Ford CDJR dealership. This midsize pickup is designed to offer the best features from the worlds of pickup trucks and SUVs. It carries a robust exterior body frame and numerous modern technology and safety features. Drivers who love to own a tech-savvy and powerful midsize pickup should check out this Jeep model.
Interested buyers can visit the dealership directly at their address and explore the 2023 Jeep Gladiator Rubicon up close. When visiting, they can test drive the vehicle and understand how it performs on the road. This gives drivers a clear understanding of the power and functionality of the vehicle, among others. Drivers can also browse the dealership's website and learn more about this pickup truck. The 3.6L V6 engine available in the vehicle is power-packed.
Log on to the akinsford.com website to learn about the numerous Jeep models, vehicle coupons and expert services available at the Akins Ford dealership. For detailed information on the powerful 2023 Jeep Gladiator Rubicon midsize pickup, kindly meet the dealership team at Akins Ford, 220 West May St., Winder, GA 30680 or contact them by phone at 770-867-9136.